NAHL announces results of 2017 Draft
June 7, 2017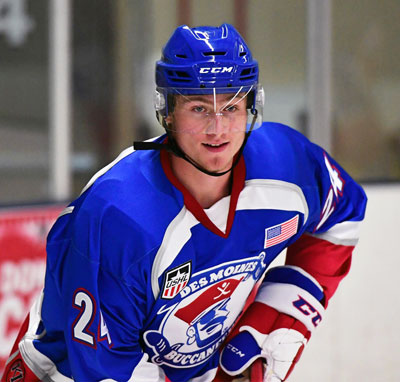 It was another exciting day for the North American Hockey League (NAHL) on Tuesday, as the 2017 NAHL Draft was held. The league as has announced the results of the 2017 NAHL Draft.
In total, 193 players were selected in the draft, which took just under four hours to complete.
Click here to listen to the archive of the draft through
HockeyTV
"The Draft is a great day for the league. It is the next step for a lot of these players in their quest for an NCAA commitment. Our coaches do a great job of identifying the type of character player that is going to use the NAHL to develop and grow, and this is a culmination of a lot of hard work by our teams. We congratulate everyone who was selected and wish them continued success in their next steps toward playing in the NAHL," said NAHL Commissioner and President Mark Frankenfeld.
The first player taken in the draft was forward Eric Otto, who was selected by the Bismarck Bobcats. Otto, a native of Burnsville, Minnesota, played this past season for Des Moines in the USHL. The first defenseman taken was Zak Galambos by the Janesville Jets with the #2 pick. Galambos spent the 2016-17 season between Johnstown in the NAHL and Omaha in the USHL. The first goalie taken was Cole Weaver, who was the #3 overall pick by the Topeka RoadRunners. Weaver played junior hockey in Canada this past season, but played his Midget hockey for Omaha AAA in the NAPHL for three seasons.
Breakdown of positions drafted:
Forwards: 118 (61%)
Defense: 61 (31%)
Goalies: 14 (8%)
Breakdown of teams/levels/leagues where players were selected from:
Midget: 70
Canadian junior: 37
High School: 35
Prep School: 18
USHL: 15
European juniors: 11
Tier III junior: 7
Birth year breakdown:
1997: 29
1998: 61
1999: 60
2000: 42
2001: 1
Each team's protected list now stands at 30 players. All rosters must be reduced to 25 players by September 1st and 23 players by October 1st.