Odessa forward Pietrowski makes NCAA commitment
May 30, 2017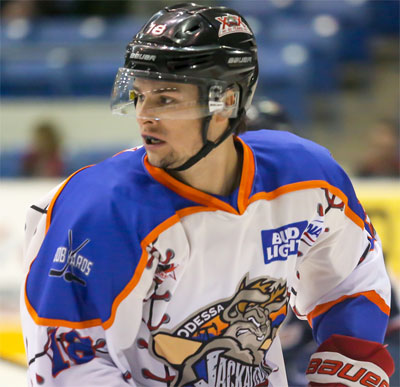 The Odessa Jackalopes of the North American Hockey League (NAHL) are proud to announce that forward Tyler Pietrowski, 21, has committed to play NCAA Division III college hockey for the Utica College Pioneers, beginning in the 2017-2018 season. Utica College is a Division III hockey program, and members of the Eastern College Athletic Conference.
"It's a great opportunity to be able to move on to the next level," expressed Pietrowski. "Utica was just the perfect fit for me considering the excellent education I will get, as well as their top hockey program. It's also great to have the opportunity to keep pursuing my goal of playing professional hockey."
The native of Curtice, Ohio, began the season with the Merritt Centennials of the British Columbia Hockey League, where he had 5 points (3-2-5) in 12 games. Tyler then found his way to Odessa with the help of a friend, Zach Zech. Pietrowski joined the team and started off a little slow before putting up 25 points (12-13-25) over the course of the remaining season.
Pietrowski (6'2/200) had to adjust his type of play this season. Being known as a big scorer since beginning junior hockey, he learned that he can do that, but in another way. Pietrowski began working as more of a power forward, who will use his big frame to out muscle defenders, while still having a nice shot as a cherry on top.
"Tyler was a great mid-season pickup who brought us a big body presence and really solidified our third line and power play unit," said Jackalopes head coach Greg Gatto.
Utica finished the season at the top of the ECAC West rankings, but fell in the championship round to Hobart.
"Utica College is excited to welcome Tyler to our family," announced Utica head coach, Gary Heenan. "Tyler is a big kid that skates really well. He likes those hard areas. We look forward to him making an immediate impact in our line up."
Pietrowski is also an alumni of the NAPHL, having played for the Philadelphia Little Flyers 18U team during the 2014-15 season.