Lone Star Brahmas crowned 2017 Robertson Cup National Champions
May 14, 2017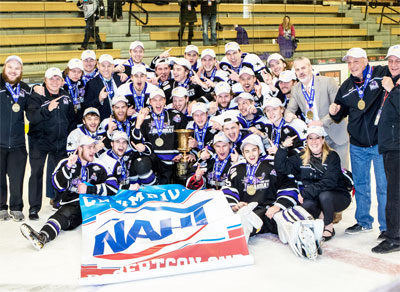 Robertson Cup National Championship Game: Lone Star Brahmas 3 vs. Aston Rebels 0 - Max Prawdzik stopped all 17 shots that came his way and Drake Glover brought home Tournament MVP honors as the NAHL South Division's Lone Star Brahmas won their first-ever NAHL Robertson Cup National Championship on Sunday afternoon at the Essentia Health Duluth Heritage Sports Center with a 3-0 win over the Aston Rebels.
The 1st period went scoreless, but it wasn't without its chances. Each team put some quality chances on goal, but goalies Max Prawdzik for the Brahmas and Mareks Mitens for the Rebels, were both up to the challenge. The best chance for Aston came on a breakaway by Saturday's hero, Evgeny Yakovlev, but his snap shot was denied by the blocker of Prawdzik. Just seconds after that chance, game the best one of the period by the Brahmas as forward Troy York dangled his way through traffic only to see his chance denied by the pad of Mitens.
The Brahmas were able to seize control of the contest late in the 2nd period as come nice cycling down low from Drake Glover got the puck to Austin Kamer in front, who separated himself from the defense and one-timed a shot past Mitens for the first goal of the game, putting Lone Star ahead, 1-0
The Brahmas kept the momentum going in the 3rd period as Austin O'Rourke scored early in the frame off a Rebels turnover to make the score 2-0. From there, Prawdzik did the rest for the Brahmas, as the goaltender kept the Rebels at bay, stopping all 17 shots that came his way for a shutout in the Championship Game. Troy York added a late empty-net goal to secure the 3-0 win and the first Robertson Cup National Championship for the Lone Star Brahmas. Mitens, the NAHL MVP during the regular season, would make 20 saves in the loss.
2017 NAHL Robertson Cup All-Tournament Team
Forward and MVP: Drake Glover, Lone Star Brahmas
Forward: Pete Kessel, Lone Star Brahmas
Forward: Gianluca Esteves, Aston Rebels
Defense: Kolby Vegara, Aston Rebels
Defense: Adam Roeder, Janesville Jets
Goaltender: Max Prawdzik, Lone Star Brahmas