Rebels punch ticket to title game with OT win over Wings
May 13, 2017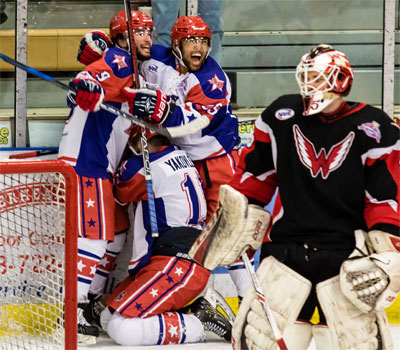 Robertson Cup Semi-Final #1, Game 3: Aston Rebels 3 vs. Aberdeen Wings 2 (Aston wins series 2-1) – Evgeny Yakovlev scored a rebound goal late in the first overtime to give the Aston Rebels a 3-2 win and advance to the NAHL Robertson Cup National Championship Game.
The game began with both teams playing very cautious and guarded with offensive chances being very tough to come by. The opening frame would end scoreless as the Rebels outshot the Wings, 6-4.
In the 2nd period, the Wings came alive as early in the period, forward Kevin Fitzgerald got the puck behind the Rebels net and kept it on his tape on a wrap-around, which he brought into the high crease and backhanded a shot over the shoulder of Rebels goalie Mareks Mitens for a 1-0 Wings lead. The period would end with Aberdeen outshooting the Rebels 8-5.
The Rebels answered in the first minute of the 3rd period as some nice cycling in the Wings zone got the puck to the point to Michael Underwood, who sent a shot towards the net, which was redirected by Gianluca Esteves underneath the pad of Wings goalie Forbes Ploszaj to tie the game at 1-1. The rest of the 3rd period wasn't without its chances, but both Ploszaj and Mitens were up to the task as the game would be decided in extra time.
In the overtime, both goalies made some more incredible saves to keep their teams in the game. Late in the extra session, the Rebels were able to sustain some pressure in the Aberdeen zone where the puck came high to the point to Gvido Jansons who took a shot on goal through traffic, but the rebound came right to Rebels forward Evgeny Yakovlev, who deposited the loose puck past Ploszaj into the back of the net for the series winner.
Aston goalie Mareks Mitens made 23 saves in the win, while Ploszaj was very good in the loss, making 33 saves. The win moves the Rebels into Sunday's National Championship Game against the Lone Star Brahmas at 1pm.