NAHL Future Prospects Combine in Duluth gets underway
May 12, 2017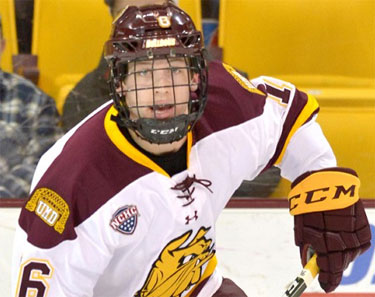 The final North American Hockey League (NAHL) Future Prospects Combines (FPC) of the 2017 season takes place this weekend in Duluth, Minnesota, in cooperation with the 2017 NAHL Robertson Cup National Championship.
Each team at the combine in Duluth will have NAHL and NA3HL coaches working with the players in the locker room and on the bench during the games. This is a very valuable time for both the players and the coaches as new relationships are being developed.
This weekend's event in Duluth also includes a seminar on Saturday that discuss the NAHL junior hockey experience, the ladder of development, as well as, NCAA compliance seminars.
The NAHL is pleased to announce that the guest speaker for the FPC seminar in Duluth is former NAHL player and current University of Minnesota-Duluth sophomore forward Billy Exell.
Exell flourished in two years in the NAHL playing for the Minnesota Wilderness. In his two years there, he scored 63 points and accumulated 152 penalty minutes. He capped his career with eight points in 12 playoff games, helping Minnesota to the NAHL's Robertson Cup National Championship title in 2015. Exell was also selected to take part in the 2015 NAHL Top Prospects Tournament for the Midwest Division team and wound up collecting two goals in two games.
The 2017 set of Combines has been to five different destinations, which included: Illinois, New Jersey, Massachusetts, California and Minnesota.
The intent and goal of all North American Future Prospects Combine events is to provide the aspiring hockey player an opportunity to take part in a one-of-a-kind learning experience. Each Future Prospects Combine is designed to maximize exposure, education and experience at grand-scale events.
Operated by the NAHL professional staff and coaches, each Future Prospects Combine is designed to provide a glimpse into a true "NAHL EXPERIENCE". The objective of an "NAHL Experience" is to provide exposure, education and an experience for prospects that strive to advance their hockey development at the junior hockey and college level.