UMD head coach Scott Sandelin to speak at Robertson Cup Luncheon
May 8, 2017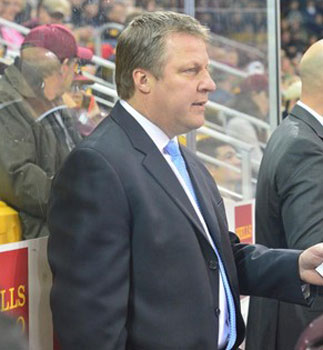 The North American Hockey League (NAHL) is pleased to announce that current University of Minnesota-Duluth head coach Scott Sandelin will be the keynote speaker at this year's Robertson Cup Luncheon. The Robertson Cup Luncheon takes place on Thursday, May 11th at Noon at the Holiday Inn in downtown Duluth, Minnesota and will be attended by the four teams participating in this year's Robertson Cup. The event is closed to the public, but open to credentialed members of the media.
"We are very excited and honored to have Scott Sandelin speak at our Robertson Cup Luncheon. He is one of the premier head coaches in the NCAA and with the Robertson Cup being held in Duluth this year, he is a perfect fit to speak to our players and pass along his words of advice and expertise to them," said NAHL Commissioner and President Mark Frankenfeld. "Thanks to Scott's hard work and dedication to the program, Minnesota-Duluth is annually one of the top teams at the NCAA Division I level. They are also one of the programs that has NAHL players commit to their program each season and their current roster has several NAHL alumni. Scott is someone who knows and scouts our league and understands exactly what he is looking for in a college-bound player."
Sandelin became the head coach for the University of Minnesota-Duluth Bulldogs in the Spring of 2000 after he was an assistant for six seasons at his alma mater, the University of North Dakota. In 2011, he became the first coach in Bulldog history to lead Minnesota-Duluth to a National Championship. The Bulldogs captured the title with a 3-2 overtime win against the University of Michigan at the Xcel Energy Center in Saint Paul, Minnesota.
Sandelin, the 2003-04 Spencer Penrose Award winner (American Hockey Coaches Association NCAA I Coach of the Year) and the runner-up for that honor four winters ago, enters the 2017-18 season -- his 18th as the Bulldogs' bench boss -- sporting a 315-284-82 overall record and having helped produce two Hobey Baker Memorial Award winners (Jack Connolly in 2011-12 and Junior Lessard in 2003-04), seven NCAA I All-Americans (including three-time pick Jack Connolly), and 21 All-NCHC/WCHA honorees. He's also seen some 18 of his UMD pupils go on to do time in the National Hockey League.
Over the past eight seasons, the Bulldogs have gone 193-124-45 while making six NCAA Tournament appearances (2009, 2011, 2012, 2015, 2016 and 2017), posting six National Collegiate Hockey Conference/Western Collegiate Hockey Association upper-division finishes and piecing together six, 21-win campaigns. This past season, the Bulldogs were crowned the NCHC Champions and advanced all the way to the 2017 NCAA Division I Championship Game, where they fell to the University of Denver, 3-2.
Born and raised in Hibbing, Minnesota, Sandelin capped off his four-year playing career at North Dakota in 1985-86 by being named one of 10 finalists for the Hobey Baker Memorial Award. He captained the club that season and also was an All-WCHA first team pick and an NCAA Division I All-American second team selection. Named North Dakota's Most Valuable Player as a senior after amassing a career-high 38 points in 40 games, Sandelin went on to play seven years of professional hockey, including NHL stints with the Montreal Canadiens (1986-88), Philadelphia Flyers (1990-91) and Minnesota North Stars (1991-92). The second round pick of the Montreal Canadiens in the 1982 NHL draft (40th selection overall), he was credited with four assists in 25 lifetime NHL outings. Sandelin, one of just three current NCHC coaches with NHL playing experience, also skated for Team U.S.A. at the 1989 Goodwill Games, the 1986 International Ice Hockey Federation Championships, and the 1984 IIHF Junior Championships.
The 2017 NAHL Robertson Cup Championship begins this week and will be held from May 11-14 at the Essentia Health Duluth Heritage Sports Center in Duluth, Minnesota. The Robertson Cup crowns the NAHL's National Champion.
For more information on the Robertson Cup Championship Tournament, including schedule, ticket information, hotels, rental cars and other event information, visit
http://nahl.com/robertson-cup/