Amarillo defenseman Fromberger makes NCAA commitment
May 4, 2017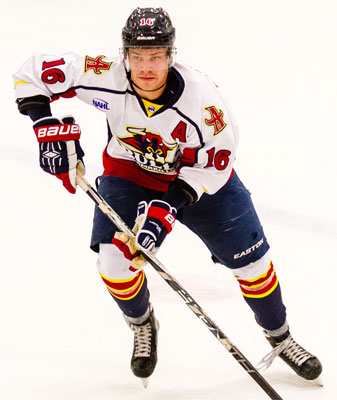 By Denis Puska, Amarillo Bulls
Amarillo Bulls and NAHL defenseman Phil Fromberger said that being able to visit the various universities and colleges like the team did was a big key in helping him choose where he wanted to go to school.
St. Thomas University located in the heart of St. Paul Minnesota was one of the programs the Bulls toured this past season when they attended the North American Hockey League Showcase in Blaine, Minnesota.
The Amarillo Bulls, proud members of the North American Hockey League, have announced that Phil Fromberger has committed to play NCAA Division III hockey at the University of
St. Thomas
(Division III-MIAC) for this fall.
In 119 NAHL games, the Verona Wisconsin native potted six goals and added 49 assists for 56 points. "I saw the school during the Blaine Showcase and nothing comes close to the way their hockey program is, to how players are treated and what they have academically," he said.
Fromberger has two pluses in his corner for his first year at the school. One is former Bulls Alumni Ben Jentsch who will start his third year at the school and the other is Phil's sister who is a student there. "I talked to Ben a little about the hockey program and the school and how he likes everything," he said. "My sister is up there and I really had no idea why she chose the program two or three years ago, but after we saw it with the Bulls I could really see why. I visited a lot of schools and it was the bench mark and nothing could come close to it.
"I have a lot of friends and family in Minnesota and Wisconsin who maybe I see once in a hockey season now see them a little more often. It's always nice to be closer to friends and family so they can come and watch."
One of the things that many of the players who have suited up in a Bulls uniform have said over the years is that playing for Amarillo is second to none and they wouldn't have chosen any other place. "I wouldn't have wanted to play anywhere else," he said. "It was awesome too to visit all of those schools that we did seeing three or four at a time. One of those schools was St. Thomas that we got to see, and I ended up having that in the back of my mind when I made the decision to go there."
Fromberger said he appreciates the time the Coaching Staff (Matt Nicholson and Tony Attanucci) took with him to help him get better and talk about going to different schools. "Coach Nicholson was telling me that it can't all be about hockey now and that you have to think about school and being there for four years," he explained. "It's about academics and where I want to learn. You are going for an education and setting up life after hockey."
Phil Fromberger (St. Thomas), joins George Mika (UMASS-Amherst), Jeff Solow (Merrimack College), Steven Ipri (Mercyhurst), Brandon Bussi (St. Lawrence), Matt Nehls (Augsburg), Charlie Singerhouse (University of Wisconsin River Falls) as members of the 2015-16 Amarillo Bulls to announce their NCAA College Commitments.