Brahmas force Game 5 with 3-2 overtime win
May 4, 2017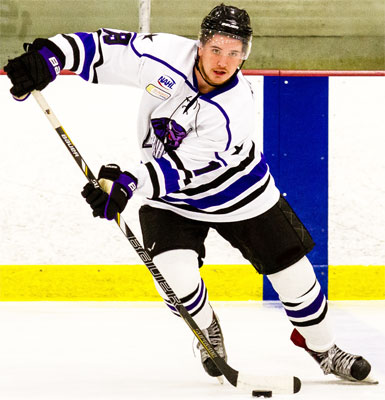 South Division Finals, Game 4: Lone Star 3 @ Corpus Christi 2 (OT) (Series tied, 2-2) - The Corpus Christi IceRays lost a third period lead and slipped in overtime, falling 3-2 in the extra frame to the Lone Star Brahmas on Wednesday night at the Dr. Pepper StarCenter in McKinney. The South Division Finals will go to a deciding Game 5 back in North Richland Hills.
After another tight but scoreless first period in consecutive nights, both teams break through in the second period starting with the road side. At 7:08, Brahmas forward Pete Kessel was set up for a one-time shot in the left circle from forward Austin Kamer to take their first lead of the week, 1-0. Exactly 50 seconds later at 7:58, IceRays center Mason Krueger took advantage of a rebound set up by forward Brad Power and tucked home the rebound to tie the game, 1-1. Krueger added a second on the first power play of the week at 10:40 by deflecting a shot from the right point by Cody Fleckenstein to gain their first lead of the night, 2-1.
The IceRays picked up their offensive presence in the final period and poured on seven of the first nine shots in the period. However, the Brahmas found the answer that they needed. Brahmas forward Carson Kelley knocked in a free puck across the IceRays netminder from the right circle at 6:00 to tie the game, 2-2. Both sides combined 26 shots, which is the most for a single period in the series but would need overtime to find a winner.
Within the first minute of the overtime period, Brahmas forward Drake Glover found a puck coming off the back glass and stuffed it into the open net just 32 seconds into the frame to take a 3-2 overtime win. Brahmas goaltender Max Prawdzik earned the win, stopping 24 of 26 shots, while IceRays netminder Tomas Vomacka picked up the loss, halting 30 of 33 shots.
The IceRays and Brahmas head to a deciding Game 5 for the South Division Finals on Saturday, May 6 at 7:30 p.m. from the NYTEX Sports Centre in North Richland Hills.