Knights forward Schuler makes NCAA commitment
April 28, 2017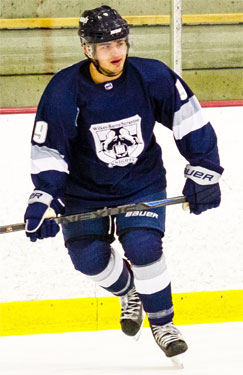 When the NAHL's Wilkes-Barre/Scranton Knights made a trade that brought them Joe Schuler last summer, they were looking for a veteran forward to help bolster a young roster. The Webster, New York native rewarded them by bringing energy and the knowledge gained from already one year spent in the NAHL to their locker room. After a steady regular season, Schuler's number was called upon often down the stretch to take shifts in some of the team's biggest moments. In the playoffs, Schuler finished tied for the Knights lead in goals, ending the year on a two-game goal streak.
"First of all, the NAHL, it's a great league," said Schuler. "People say tier-II, but it's extremely competitive. I think it's made me twice the player I was. It's helped me prepare for college. Living away from home allowed me to attack my academics more aggressively. I think it made me more independent."
Schuler will take that dedication to his studies to college as he has committed to play NCAA Division III hockey for the Colby College Mules of the NESCAC next season. The Mules program, located in Waterville, Maine, just completed their 22nd season playing at the Division III level of NCAA hockey. Schuler is excited to get to work.
"I think when you visit a place, and it just feels right, that's what stood out to me about Colby," he said. "It's a smaller school that's challenging academically and they've had a hockey program for a long time. In the NESCAC conference, they play a lot of fun, competitive hockey."
The Mules, once led by Jim Tortorella (brother of John) for their first 16 seasons, are now steered by head coach Blaise MacDonald. His team is coming off a 13-7-4 season in which they finished second in NESCAC's regular season standings.
"Colby has a great tradition," said Schuler. "I'm excited to play for a school where hockey and academics are a big deal."
In reflecting on his final season in junior hockey, Schuler was most sure to talk about his teammates he shared it with.
"I like our guys," he said. "We had a great group. We had a lot of fun together. Whether we were filling a teammate's car with packing peanuts, going on long road trips or just hanging out in our hotel, we really enjoyed our time together."
In parting, he had a few final words of gratitude.
"I just want to thank my parents," he said.
The Knights organization thanks Joe for his contributions and wishes him all the best moving forward in his career!