Kenai River parts ways with head coach Jeff Worlton
April 26, 2017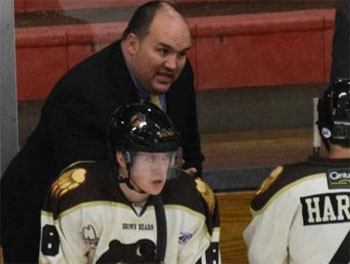 The Kenai River Brown Bears, proud members of the North American Hockey League (NAHL), have announced that head coach Jeff Worlton will not return on the bench next season.
A nation-wide search has begun to find a replacement, as part of a rebirth of the ten-year old program. The Brown Bears have been members of the NAHL since the 2007-08 season.
Last week, the Kenai Peninsula Youth Foundation announced that an outpouring of community support to raise funding and awareness was successful and that the Brown Bear program will continue its NAHL hockey operations.
In two seasons with the Bears, Worlton amassed a record of 14-66-5-1, taking over during the second half of the 2015-16 season. This year the Brown Bears finished 12-46-2.
"The Brown Bears would like to thank Jeff for his contributions. He brought a hard work ethic and competitiveness to our program," said Brown Bears General Manager Nate Keil.
The Bears will announce a new coaching staff in the near future, and will hold their first pre-draft tryout camp at the Subway Centre in Anchorage, Alaska on May 26th-28th.