IceRays complete sweep with OT win, move onto South Finals
April 19, 2017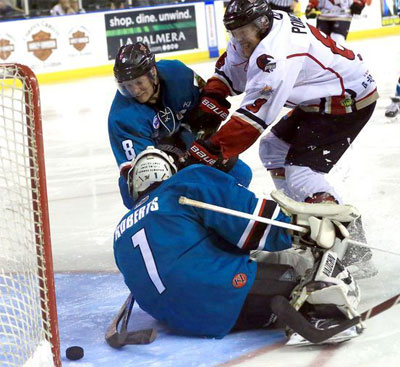 South Division Semi-Finals, Game 3: Shreveport 1 @ Corpus Christi 2 (OT) (Corpus Christi wins series, 2-0) - The Corpus Christi IceRays earned a 3-0 series sweep of the Shreveport Mudbugs with a thrilling 2-1 overtime victory on Wednesday night at the American Bank Center. It's the team's first series win in junior franchise history and first series sweep in program history.
The Mudbugs came out with a sense of urgency to press and find the game's first goal. At 1:47, Mudbugs defenseman Alex Spencer flicked a shot from the left point that found its way through traffic for a 1-0 Mudbugs lead. Shreveport continued to control the opening period until the first power play of the contest, which resulted in the leveling goal. IceRays forward Larry Jungwirth stole a puck in the offensive end and crossed it to center Mason Krueger waiting on the back door of a 2-on-0 for his first of the postseason and a tie game, 1-1, at 9:42.
The second period was tight and full of both offensive opportunities and physical play, but neither side were able to net the go-ahead goal, which set the stage for the third period. Pacing ramped up again, and with fewer shots came fewer opportunities to gain the go-ahead goal. For the second time in junior franchise history and just the sixth in program history, the game went into overtime. It took only 3:41 for IceRays forward Brad Power to poke in a loose puck coming off a Josh Tripp shot to give the IceRays a 2-1 overtime win and the series win, 3-0. It's the first playoff series win in junior franchise history and second in program history while also the first sweep by the IceRays in nine previous playoff attempts. The IceRays will take on the winner of Lone Star/Wichita Falls for the South Division Finals.
IceRays netminder Tomas Vomacka earned the win, turning aside 37 of 38 shots, while John Roberts was saddled with the overtime loss, stopped 25 of 27 shots. The IceRays head to the South Division Finals for the first time in junior franchise history to take on the winner of Lone Star/Wichita Falls. All game information, including series opponent, schedule, and home game locations will be made available in the coming days.