Gongshow Flow of the Month winner for March announced
April 4, 2017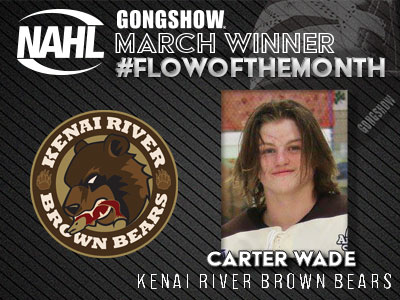 The month of March is one of the best times of the year for the flow. It has been seven months since the season started and anyone who has been growing their locks since the start of the season, ought to have a pretty good salad going right about now.
With that said, the North American Hockey League (NAHL) announced its GONGSHOW Flow of the Month winner for March 2017.
The winner this month is forward Carter Wade of the Kenai River Brown Bears.
Wade, 19, is in his second season of junior hockey in the NAHL. The 5'10/181 lbs. native of Ephrata, Washington, appeared in 37 regular season games and had four points to go along with 183 penalty minutes.
Wade has also spent time with the Odessa Jackalopes in the NAHL and the Sioux City Musketeers in the USHL prior to this season. He is also an NAPHL alum, having played the 2014-15 season with the Everett Jr. Silvertips in the league.
Wade has some of the best flow we have seen this season. Most importantly, and one of the reasons he was selected this month, is because his flow is textbook hockey flow. He has taken the last seven months to really grow the salad and now it wisps away in the wind in all of its shoulder-length glory.
Whether he is driving to the net, setting up goals, stepping up for his teammates or posing for pictures off the ice, his flow is a true example of why people like hockey hair.
He has a nice hint of surfer hair that resembles that of the Patrick Swayze character, Bodhi, in the movie 'Point Break.'
Congrats Carter… and for his effort, he will be receiving a GONGSHOW Gear hat.
For the sixth season in a row, GONGSHOW is the exclusive sponsor of the Flow of the Month promotion during the regular season exclusively on the NAHL and GONGSHOW Twitter sites @NAHLHockey and @GONGSHOWGEAR.
GONGSHOW Gear Inc. (GONGSHOW) is the Official Lifestyle Hockey Apparel of the NAHL. GONGSHOW is also the sponsor of the NAHL TV platform on the NAHL website at NAHL.com. GONGSHOW is recognized as the hockey good industry's premier manufacturer of innovative, high quality, fashionable and trend setting clothing apparel for hockey athletes of all ages and abilities.