Knights goalie Valentine makes NCAA DI commitment
March 22, 2017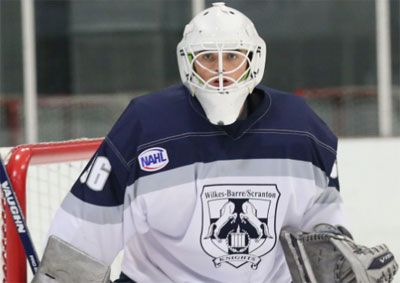 From the first puck drop of their program's NAHL existence, Grant Valentine has been there to witness the growth of the Knights organization. It's fitting that the members of the organization could say the same about their most tenured netminder, one who'll be playing division one hockey next season. Valentine, a native of Medina, Ohio announced his commitment to play NCAA Division I hockey for Miami University of Ohio, members of the NCHC.
"Grant was our very first NAHL tender," said coach Tom Kowal. "To watch him from where he started to where he is now, making a commitment to a division one school-that's an extremely rewarding feeling."
In his second season in the NAHL, the Knights goalie has already more than doubled his number of NAHL starts in net. With the benefit of experience, Valentine's numbers have soared in his 2017-18 campaign. In 39 games played, he's recorded a 2.82 GAA and a .912 save percentage.
"There has been a lot of opportunity here," said Valentine. "Going through losing a bit when I first got here and getting a lot of time in goal-it's really helped me develop. The coaching has been great. They've really allowed me to mature on and off the ice. I feel I've grown a lot."
Currently second in minutes played in the league, Valentine has been a trusted option that the Knights have heavily relied upon in their second year in the NAHL. Just last week he was named east division star of the week for a three-game span that included a shootout victor and a shutout while compiling a 1.64 GAA and a .943 save percentage.
"Grant has been a big part of our success this season," said Kowal. "He's having a really good year; we've given him a lot of minutes and he's rewarded us with a lot of positive performances."
With his 18 wins ranking just outside the top five amongst goalies in the NAHL, it's easy to see why a place was available for him at Miami. "Just the Brotherhood-the chance to be a part of something bigger than yourself," said Valentine on what sold him on the Redhawks program. "It's an excellent school, the hockey program is great and it's a great college town-really it's the total package."
Miami of Ohio has produced its fair share of successful hockey alumni. More recent graduates include but are not limited to Andy Greene, captain of the New Jersey Devils, Alec Martinez, owner of the game-winning goal that propelled the LA Kings to a Stanley Cup victory over the New York Rangers in 2014, as well as names like Reilly Smith, Chris Wideman, Tommy Wingels and Jeff Zatkoff among others.
Before Valentine begins the process of adding his name to such a list, he's focused on his current his team, and bettering their chances at chasing an NAHL championship. "We have a really good group here," he said. "I'm comfortable in my role. I know the guys in front of me are going to do their job, so it's up to me to do mine. With my college commitment made I'm just focused on doing my part to make a run at a Robertson Cup."
The Knights are in the process of rounding out their final five contests of the NAHL regular season. They've already qualified for the playoffs and will likely enter the postseason's divisional rounds as the East Division's fourth seed, meaning each series will see their opponent possess home ice advantage. Knights bench boss Tom Kowal isn't worried. "Having strong goaltending heading into the playoffs is a major key to success," said Kowal. "Grant gives us a great option and a fighting chance heading into the postseason."
For Valentine's part, he's ready to wrap up his Knights career on a high note, but hasn't forgotten to appreciate those that have helped him along the way. "I've enjoyed being part of the Knights-they're a class organization that's devoted to getting their players to play at higher levels of hockey," he said. "I'm truly grateful to them as well as my family for helping me reach the next step of my career."