Corpus Christi goalie Vomacka makes NCAA DI commitment
March 20, 2017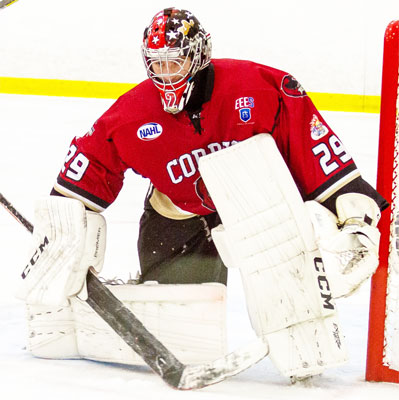 By Collin Schuck, Corpus Christi IceRays
The Corpus Christi IceRays of the North American Hockey League (NAHL) are proud to announce the commitment of goaltender Tomas Vomacka to the University of Connecticut, a NCAA Division I program in the Hockey East, for the 2018-19 season.
"I'm absolutely excited," said Vomacka on his commitment. "Earning this commitment means a lot to me. I'm really proud and honored to be going to UConn. I wanted to get a college scholarship this year, and I'm really looking forward to playing college hockey."
Vomacka
, 17, becomes the youngest player on this year's roster to earn a NCAA commitment during a stellar season between the pipes. The Trutnov, Czech Republic native came to the U.S. following the beginning of his junior career with Mountfield HK in his home region, recording a 14-14 record with a 2.37 goals-against average and .911 save percentage with four shutouts through 28 games with the U18 team. The young netminder has been a regular for international play as well through that point, playing 27 games over two years with the Czech Republic U16 and U17 teams and combining for a 14-13 record with a 3.00 goals-against average or less in both years as well as floating around a .900 combined save percentage.
The IceRays drafted
Vomacka
136th overall (6th Round) in the 2016 NAHL Draft after the 6-foot-3, 172-pound goaltender had already garnered attention from professional scouts and trying to find a strong tandem in net. Despite an adjustment from the European style of game to the North American style,
Vomacka
has stood out in his first year across the Atlantic Ocean both for the IceRays and around the NAHL. He's emerged as a league-leader, currently sitting fourth in save percentage and sixth in goals-against average with the sixth-most minutes played, recording a 17-11-4 record with a 2.28 goals-against average and a .927 save percentage with his first NAHL shutout on February 17 in a 2-0 win.
In the process of his record,
Vomacka
set a junior franchise record with six-straight wins from December 17 through January 21, is now on pace for the best goaltending numbers in franchise history, has kept opponents to three goals or less in now 19-straight games, was named NAHL South Division Star of the Week two times and most recently as last week, and recorded the first overtime win for a goaltender at the 2017 NAHL Top Prospects Tournament while representing the NAHL Selects against the U.S. National Team Development Program (USNTDP).
On top of that, the National Hockey League (NHL) has kept a firm eye on Vomá?ka throughout the season leading in to the NHL Draft this June. Prior to his first game, he was named to the 2016 NHL Central Scouting Futures List after winning a gold medal at the Hlinka Memorial Cup with the Czech Republic then ranked 13th in the NHL Central Scouting Midterm Rankings before NHL Central Scouting selected him to the NAHL Selects. Despite the attention and notoriety, Vomá?ka has been able to block the outside to focus on his play while enjoying his time with the IceRays and his teammates.
"I've been trying to not think about the attention and what others are thinking of me. I just want to be focused to play well in our games and at practice. I've enjoyed every moment with these guys. It's a great and special group of guys in the locker room. Everything was so new for me coming into this year from the Czech Republic, so I just said to myself that I need to do my best, and I'm trying to do that in every game and just have fun playing hockey."
"We're all very thrilled for Tomas to be committing to UConn," said IceRays head coach Brad Flynn. "I believe his natural athletic ability is second to none as a young goalie. For a young European a goalie to come over and make a seamless transition in his NHL draft year has been remarkable. He's exceeded all my expectations not just on the ice but also off the ice. UConn is getting a very good goalie, but as talented as his is on the ice, he is an even better person off the ice. We in Corpus Christi have our third commitment this season and now have seven commitments on the roster, and I have a good feeling that a couple more will come before the end of the season."
The University of Connecticut began as an agricultural school in 1880 and has now been named one of the Top 20 public universities in the nation by U.S. News & World Support. While the NCAA Division I program has been known more recently for their basketball performance, the hockey program has steadily built itself to where it stands today, earning its roots as a NCAA Division III program starting in 1960 until 1998 when they moved to the now Atlantic Hockey Conference (AHC) and earned a championship in 2000. Now in the Hockey East since the 2014-15 season, the Huskies take on national powerhouses like Boston College, Boston University, Notre Dame and Providence. UConn also has three players with NHL ties: Todd Krygier ('88), who played ten seasons in the NHL after being drafted in 1998 by the Hartford Whalers and also playing for the Washington Capitals and Mighty Ducks of Anaheim; Cole Schneider ('13), who made his NHL debut with the Buffalo Sabres last year; and Tage Thompson, who was drafted 26th overall by the St. Louis Blues in the 2016 NHL Draft and recently signed a NHL contract with the Blues.
Vomacka
becomes just the second player to commit to a Hockey East program, joining current ECHL defenseman Colton Saucerman ('10-'11) that played an extensive four years at Northeastern University before reaching as high as the American Hockey League (AHL) this season. He's also the third player on NAHL protected lists to begin their collegiate career at UConn and second goaltender from the South Division to head to the program over the last three seasons, joining Tanner Creel of the Odessa Jackalopes.
"I talked with the coaching staff, and they've been really nice to me," said
Vomacka
. "I also talked a lot with Adam Huska, who's a Slovakian goalie, about being a European at UConn. It's a nice school with a good hockey program and a lot of history. I know they've had a couple players recently in the NHL, so I'm just looking forward to the chance to play at UConn and continuing to look towards my goal of playing in the NHL."
Vomacka
marks the third player to earn a NCAA Division I college commitment this season and the second player to commit since the NAHL Top Prospects Tournament, including defenseman Logan Gestro (Canisius College). He is also now the seventh player on the roster with a commitment in-hand, joining David Baskerville (Canisius), Nathan Bryer (Mercyhurst University), Camden Burggrabe (Northern Michigan University), Cody Fleckenstein (Army West Point), Gestro, and Mason Krueger (Army West Point).
"What great news this is for Tomas," said IceRays general manager Pat Dunn. "People often forget how big of a commitment it is for these young kids to come play, especially going to North America for the first time, and today he's being rewarded. Tomas has a very bright future, but is charisma, off-ice adjustment and locker room demeanor is beyond his athletic ability. UConn has really found themselves a gem with a lot of raw talent and a high ceiling for the rest of his career. Tomas was a great find from Brad [Flynn], who was instrumental in bringing him to the U.S., and we'll all enjoy seeing where his career takes him through college and beyond."