March 17, 2017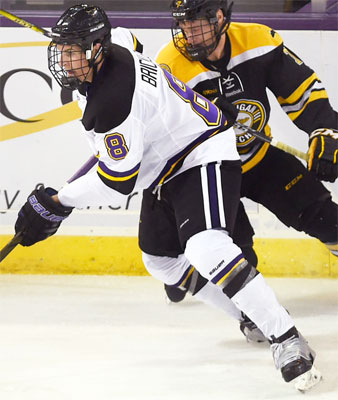 As the NCAA winds down its 2016-17 season, all of the major conferences are in their post-season tournaments and are handing out their season awards.
The Hobey Baker Award announced its 10 finalists and there are a total of two NAHL alumni that are in the 10 players, which include goaltenders Michael Bitzer, Bemidji State (Alexandria Blizzard) and Charles Williams, Canisius (Owatonna Express).
Bitzer and Williams are also in the Top 10 for the Mike Richter Award, which recognizes the top goalie in NCAA Division I hockey. They join NAHL alums Merrick Madsen, Harvard (Minot Minotauros) and Cal Petersen, Notre Dame (Topeka RoadRunners).
Williams was named the Atlantic Hockey Player of the Year. During the regular season Williams registered five shutouts, which was tied for the national lead in the regular season and tied an Atlantic Hockey single-season record. Williams led all goalies in Atlantic Hockey with a0.947 save percentage and a 1.69 goals against average. The goaltender also led the nation in save percentage with a .946 mark and finished second in the nation with 1.75 goals against average.
Bitzer was named the WCHA Player of the Year. Bitzer backstopped Bemidji State to the program's first MacNaughton Cup as WCHA regular season champion, solidifying his place as one of the nation's top goaltenders with an exceptional junior campaign – one of the best-ever by a league netminder. The Moorhead, Minn. native set the all-time WCHA record with a sparkling 1.40 goals-against average in his 27 league games, while also pacing the circuit with a .940 save percentage (second in league history), 20 wins (tied for seventh), a .778 winning percentage, five shutouts (tied for third) and 1625:40 in net. The first-team All-WCHA goaltender ended his season with a 1.71 overall goals-against average, currently best in the nation, while he tied his own Bemidji State single-season record with six shutouts (also tops as of now in the NCAA). Bitzer finished with a 22-14-3 record, becoming the first BSU goalie with 22 wins in a season since Steve O'Shea (22-12-1) in 1986-87. He was in the net for every Beaver victory in 2016-17, as the team won its most league games of its seven WCHA campaigns and posted its most overall triumphs since 2009-10.
Springfield Jr. Blues alum Les Lancaster was named Co-Defenseman of the Year in Atlantic Hockey. Lancaster followed-up a tremendous freshman year with another strong season for Mercyhurst. He was the Lakers' third-leading scorer in conference play with 20 points, tying him for second amongst Atlantic Hockey defensemen for scoring. Lancaster had 32 blocks on the year and finished conference play plus-5.
Michigan goalie Zach Nagelvoort (Aberdeen/Soo/Traverse City/Kalamazoo) was name the Big 10's #1 star of the week this past week. Nagelvoort recorded a season-high 46 saves to shut out nationally ranked Penn State, 4-0, on Saturday. He earned his fifth career shutout and the second in his last three starts. He stopped at least 10 shots in each period, including 22 in the middle stanza. This was his eighth career weekly award and second of the season.
Former Amarillo Bulls goalie Collin Delia (Merrimack) was named the Hockey East Goaltending Champion. Delia finished with the league's top save percentage and third-best goals-against average during the conference regular season schedule. After missing a stretch of 11 straight games due to injury early in the season, Delia returned in mid-November and proceeded to put up the best goaltending figures of his career. His 33-save shutout at Wisconsin in his second game of the year (Nov. 19) would serve as a preview of what was to come, as Delia would go on to post a 9-8-3 record in 21 starts/appearances to go alongside a 2.15 goals-against average and a .927 save percentage. In 14 league games, Delia posted the top save percentage (.928) and third-best goals-against average (2.21) while owning the third-best win percentage (7-3-3, .654) amongst all conference goaltenders over the course of the league's 22-game regular season schedule. He did so despite missing nearly a half of the league season and was still able to surpass the minimum 40-percent of minutes played threshold to qualify for the league leader boards, demonstrating just how solid of a year he had between the posts.
Former Wichita Falls defenseman Tucker Poolman (North Dakota) was named the NCHC Defensive Defenseman of the Year. The Winnipeg Jets prospect led all UND defensemen and was fourth among NCHC blue liners with a plus-17 rating on the year, while logging a plus-6 rating in NCHC play. The two-time Bauer NCHC Defenseman of the Week was a staple on UND's blue line, playing in all 24 conference games and anchoring its penalty kill unit. Poolman also blocked 28 shots in conference play and had 47 blocked shots overall, while the junior committed just five penalties for 10 minutes in NCHC action.
The WCHA Defensive Player of the Year went to former Topeka RoadRunners and NAPHL defenseman Daniel Brickley (Minnesota State). Brickley was the top two-way player in the WCHA, pacing league defensemen with 19 assists, 26 points and 14 power-play points in just 22 league contests, while ranking second with 55 blocked shots. The first-team All-WCHA performer nearly became the first blue-liner in 20 years to lead the league in scoring, falling just four points shy – despite missing six games due to injury. The sophomore from Sandy, Utah wrapped up his campaign with eight goals, 23 assists and 31 points – currently tied for the eighth-most nationally among defensemen (second for underclassmen). Brickley also added 72 blocked shots and a plus-9 rating, helping Minnesota State to a 22-win season and a trip to the WCHA semifinals.
The WCHA Rookie of the Year was former Minnesota Magicians forward Marc Michaelis (Minnesota State). Michaelis put together one of the most impressive rookie campaigns in Minnesota State history, leading the team with 36 points – the second-most by a Maverick freshman in the program's Division I history. A first-team All-WCHA and WCHA All-Rookie Team selection, he scored 14 goals and collected 22 assists in 39 games, amassing what is currently the fourth-most points by a NCAA freshman. The Hockey Commissioners' Association Division I National Rookie of the Month for December, Michaelis tallied at least one point in 24 contests overall. The native of Mannheim, Germany ranked second in the WCHA scoring race with 28 points in 28 league games, just two points shy of becoming the third freshman in conference history – and first in 46 years – to win a scoring title. Michaelis also paced WCHA rookies in goals (13), points, goals-per-game (0.46), points-per-game (1.00), power-play goals (6), power-play points (13), short-handed goals (2) and hat tricks (1).