Topeka forward Bowery makes NCAA DI commitment
March 17, 2017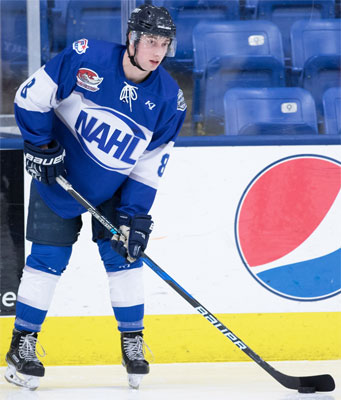 The Topeka RoadRunners, proud members of the North American Hockey League (NAHL), are proud to announce that forward Marshall Bowery has committed to play NCAA Division I hockey at Air Force Academy. Bowery's commitment begins fall 2017.
He joins fellow RoadRunners forward Max Harper, who committed to Air Force Academy earlier this season.
The 5'10/168 lbs. native of Rochester Hills, Michigan, has scored 17 goals and tallied 16 assists in his 48 games so far this season. During his first year with the RoadRunners, he collected six goals and 18 assists for 24 points in 53 games. He was also a member of the East team in the 2017 NAHL Top Prospects tournament, where he notched an assist.
"I went on a visit out there, and at the end of it, they offered me a spot," Bowery said. "They told me to take my time and think about it, and I ended up deciding it was a great fit for me."
He said his visit to the school was not only impressive from an athletic standpoint, but from an overall university perspective. "While I was there, I was blown away by the hockey team, the academics, and how much of a great school it is."
During his time with the RoadRunners, Bowery stated he has grown exponentially as a person. "Throughout the two seasons in Topeka, I definitely matured incredibly, with the help of my teammates and coaches here. My hockey game is much better in every aspect through these last two years."
And to be going to the same school as his best friend since the age of three years old, Max Harper? That's just icing on the cake for Bowery. "I think it's going to be awesome for both us," Bowery said. "Throughout everything, we'll have the opportunity to support each other and be there for one another."
RoadRunners head coach Josh Kamrass indicated that Bowery's selection by Air Force has everything to do with his determination and hard work.
"We had talked with the Air Force Academy about Marshall early in the season," Kamrass said. "I think one thing that stuck out to them was his ability to compete. It never goes away and he just keeps building and building. For himself, you've seen him grow over his time in Topeka. Everything I think they are looking for a player and a person, they are getting that in Marshall."
With the commitment of the team and the North American Hockey League to better players as athletes and citizens, and to get players to the next level, Kamrass said that shows how great of a league the NAHL is.
"Our owner Don Stone has been around this game a long time, and stories like Marshall are the reason we do what we do," Kamrass said. "We all love the game of hockey and bettering these young players' lives in the process."
Air Force Academy, based in Colorado Springs, Co. is currently 24-9-5 on the season and ranked No. 17 in Division I hockey.