Chill, Brown Bears bring home wins on Thursday
March 16, 2017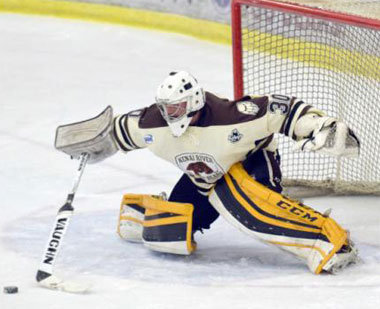 MN Magicians 1 @ Coulee Region 7
– The Coulee Region Chill won their 4th straight game and in the process moved into the 4th and final playoff spot in the Midwest Division with a convincing 7-1 home win over the Magicians on Thursday. Kevin Dineen scored twice for the Chill in the win. The game was knotted 1-1 after the 1st period as Joey Sofo scored first for Coulee Region, only to see Will Hammer answer for Minnesota just minutes later. After that, it was all Chill. Dineen and Isaac Theisen scored goals in the 2nd period to make it 3-1 and then the Chill added four more goals in the 3rd period, including another from Dineen and others from Justin Kendall, Taylor Trapp and Caleb Schroer. Theisen, Schroer, Dineen and Kendall all finished with three points on the night and goalie Brad Arvanitis had 33 saves in the win. Magicians goalie Jake Acton made 19 saves before being lifted for Ivan Prosvetov, who had 8 saves.
Boxscore
Topeka 1 @ Kenai River 3
- The Kenai River Brown Bears snapped a 13-game losing streak with a 3-1 victory over the Topeka RoadRunners on Thursday at the Soldotna Regional Sports Complex. After a scoreless 1st period, the Brown Bears took advantage of some power play time to grab the lead. With 10:44 left in the second period, Topeka committed a penalty and the Bears kept possession and got the extra man on the ice. Evan Butcher eventually found Jonathan Marzec, who snapped a shot under the pipe. Then later in the second, Tyler Rock scored a rebound, power-play goal off assists from Ryan Mezera and Luke Radetic for a 2-0 lead. With 11:50 left in the third, John Wojciechowski scored for Topeka to turn up the heat on Kenai River. However, Brown Bears goalie Robbie Goor stood tall, making 34 saves and the Brown Bears got a late empty-net goal from Ethan Stewart to secure the 3-1 win. Topeka goalie Ryan Snowden made 32 saves in the loss.
Boxscore