IceRays come from behind to edge Mudbugs
March 15, 2017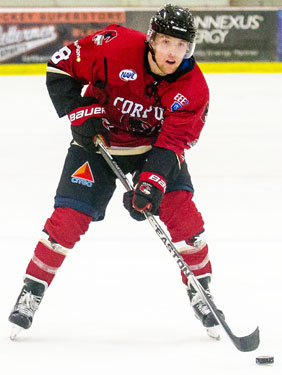 Shreveport 2 @ Corpus Christi 3 (SO) - The Corpus Christi IceRays marched back from a two-goal deficit after the first period to take down the Shreveport Mudbugs in a 3-2 shootout victory on Wednesday night from the American Bank Center, recording their second-straight comeback win.
The IceRays had all of the momentum in the first four minutes, but the Mudbugs found their legs after the opening portion and not only pressed the IceRays back but also scored the game's first goal. At 14:30, Mudbugs forward Jack Jaunich cleaned up a loose puck in front of the IceRays net to take a 1-0 edge for the road side. In the final minute of the first period, Mudbugs forward Frankie Melton sniped a shot from the edge of the left circle into the opposing top corner to double the lead, 2-0.
Early in the 2nd period and on a power play at 6:24, IceRays forward Brad Power fought to tap in a rebound in front of the Mudbugs net to break a five-game goal less drought on the power play and cut the lead in half, 2-1.
The third period remained tight throughout, but with the netminder pulled in the final minute, IceRays defenseman Cody Fleckenstein took a one-time shot from the blue line that pinballed off two Mudbugs players and found the back of the net at 19:31 to send the game into overtime, 2-2. After no scoring in the overtime period, Power stashed in a goal in the opening round of the shootout, and the Mudbugs were denied in all three attempts, giving the IceRays the 3-2 win.
IceRays netminder Tomas Vomacka earned the win, halting 28 of 30 shots as well as all three shootout attempts, while Mudbugs goaltender John Roberts was saddled with the shootout loss, tossing aside 38 of 40 shots and one of two in the shootout.