Fairbanks defenseman Maass makes NCAA DI commitment
March 9, 2017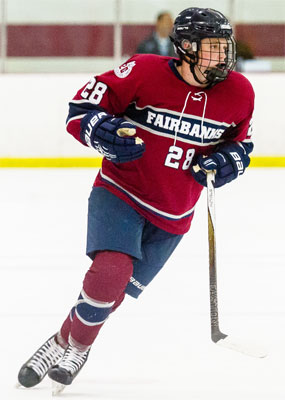 The Fairbanks Ice Dogs, proud members of the North American Hockey League (NAHL), are pleased to announce that defenseman Benton Maass has committed to play NCAA Division I hockey for the University of New Hampshire in Hockey East.
Maass, 18, is in his first season with the Ice Dogs and is very highly-touted defenseman with NHL interest. The native of Elk River, Minnesota began the season in Fairbanks, appearing in 17 regular season games and recording 8 points.
This past June, Maass was selected in the 4th Round (96th overall) of the 2016 NAHL Draft by Fairbanks.
Maass has also been on the radar of NHL Central Scouting, having been listed on their original players to watch list and again on their mid-term rankings.
In the middle of November, Maass (6'2/190) decided to return to Minnesota to play high school hockey during his senior season for Elk River.
In 25 regular season games with Elk River, Maass recorded 29 points. Elk River was eliminated by eventual section champion Grand Rapids.
Maass has since rejoined the Ice Dogs for the remainder of the 2016-17 regular season and playoffs.
"Benton came in to start the season and developed very nicely to attract college and NHL attention. He got back in to town earlier this week and seems eager to pick up where he left off," said Fairbanks head coach Trevor Stewart.
"I chose UNH for a variety of reasons. During my visit, I really connected with the guys on the team and the coaching staff, which was a big priority of mine. They made me feel like I was at home. I also really liked the campus and schooling that New Hampshire offers which was another big reason why I decided to go there," said Maass.