Corpus Christi defenseman Gestro makes NCAA DI commitment
March 7, 2017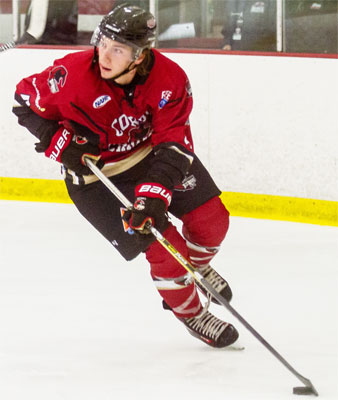 The Corpus Christi IceRays of the North American Hockey League (NAHL) are proud to announce the commitment of Top Prospects defenseman Logan Gestro to Canisius College, a NCAA Division I program in the Atlantic Hockey Conference (AHC) for the 2017-18 season.
"It's amazing, and I'm very grateful," said Gestro. "It's especially exciting because I thought I'd be playing Division III next year going into the 2017 NAHL Top Prospects Tournament. All of a sudden, I had a few options. It was kind of overwhelming and happened so quickly." Gestro played of for the South Division team, which went undefeated at the event and Gestro recorded three assists in two games.
Gestro, 21, has been a consistent presence on the blue line for the IceRays since joining the organization prior to the 2014-15 season out of the team's try-out camps. The South Lyon, Michigan, native entered the team after playing 34 games with Victory Honda U18 in the Tier 1 Elite Hockey League during the 2013-14 season, recording 12 points with 50 penalty minutes while playing with current IceRays forward Nathan Bryer, who was tendered during that season. His skill and size would help him to earn a spot on the top defensive pairing, setting up an impressive start to his junior career.
During the 2014-15 season, the 6-foot-3, 205-pound defenseman became one of the most productive defensemen as part of the record-setting season with his first point on Sep. 19, 2014 in a 2-0 home win over Wenatchee and his first NAHL goal on Oct. 3, 2015 in a multi-point effort also over Wenatchee. Gestro would go on to earn eight multi-point games over the course of the season as well as a career-best five-game point streak from Oct. 17-30, 2015, recording two goals and five assists for seven points. He finished with four goals and 21 assists for 25 points through 54 games, which currently stands as tied for fourth-most points by a defenseman in junior franchise history.
After recording six points through 44 games during the 2015-16 season with the Sioux City Musketeers in the USHL, the IceRays recovered Gestro by selecting him 64th overall (3rd Round) in the 2016 NAHL Entry Draft to bring back the junior veteran into a strong defensive core with five veteran players. His play for the IceRays picked up where it left off defensively, securing himself as one of the most reliable two-way defensemen this season while continuing to work on both the power play and penalty kill. He currently sits tied for second among defensemen in plus/minus with a plus-nine rating to go along with two goals and nine assists for 11 points through all 47 games and is one of a few select players to earn multiple appearances at the NAHL Top Prospects Tournament, which is where his attention really sped up.
With all that time in junior hockey, the memories both on and off the ice will continue to be a lasting impression on both his hockey career and time away from the sport.
"I'll remember all of the little things. Staying on the ice after practice, getting better, taking the ice time we have now to better myself for the future. I played with two teams and three different coaches, so I got to take a piece from everyone's minds and learn something different from everyone. I've also had three different groups of guys. Each team was a close group, but this team is exceptionally close, and we possibly have something really special here. The memories in Corpus Christi are going to last a lifetime."
"It has been a fun experience for me with Logan," said IceRays head coach Brad Flynn. "Two years ago, I was an assistant here and he was a rookie in the league. It's funny how things work out. We both left for a year to go and improve ourselves and ended up returning better to help the IceRays organization. Logan is a high character young man who works hard and never complains. He has good size and mobility with, in my opinion, a lot of offensive upside. He plays in all situations and is a huge contributor to our team success and there is no doubt in my mind he is going to be a big contributor to Canisius."
Canisius College is NCAA Division I program located in a residential neighborhood in North-Central Buffalo, N.Y. founded in 1870 and currently ranked as one of the best Jesuit, Catholic colleges in the nation. The hockey program was built from the ground up beginning in 1971 as a club team and slowly evolving into a NCAA Division III program before making the leap to NCAA Division I prior to the 1997-98 season. Throughout the program's history, the team earned the 2013 Atlantic Hockey Conference Championship and saw one of its alumni, center Cory Conacher ('11), reach the NHL with the Tampa Bay Lightning, Ottawa Senators, Buffalo Sabres and New York Islanders beginning in the 2012-13 season.
Gestro makes the trip to Buffalo, N.Y. in both a familiar area and with familiar company. Currently, five IceRays players grew up in the greater Buffalo area along with the team's Director of Scouting, Mike Mondoux. In addition, Gestro will be joined by forward David Baskerville, who committed to Canisius College prior to joining the IceRays roster. The two will work to help lead the Golden Griffins back to another AHC Championship beginning next season and play against multiple IceRays players in AHC play, including Nathan Bryer (Mercyhurst University), Cody Fleckenstein (Army West Point), Mason Krueger (Army West Point), Dryden McKay (College of the Holy Cross), and Tanner Lomsnes (Niagara University). Gestro and Baskerville have grown close over this season, and they were both involved in the process of securing the commitment.
"David was a big part of the recruiting process," said Gestro. "[Canisius] reached out to him and had him in my ear the whole time. Having someone there you know makes the transition a lot easier. Every new team I've been on has been welcoming, but it's nice to have a familiar face in the locker room and a good buddy of yours that you enjoy their presence. The fact that [David] and I get to experience college together is awesome."
Gestro becomes the second player to earn a NCAA Division I college commitment this season and is now the sixth player on the roster with a commitment in-hand, joining Baskerville (Canisius), Bryer (Mercyhurst University), Camden Burggrabe (Northern Michigan University), Fleckenstein (Army West Point), and Krueger (Army West Point).
"It's been a long time coming, but it came at the right time," said IceRays general manager Pat Dunn. "We all thought Logan would get his commitment during his first stint with us, but it didn't work out that way. The good think is that he never got discouraged throughout the whole process. He kept playing hard every game and never let it affect him, and he finally got rewarded for his strong play. We are glad that he got a scholarship while wearing an IceRays uniform. Canisius not only will get a great player but an even better person. We were all thrilled to hear the news. Hopefully, there will be a few more commitments from our team in the weeks to come."