March 3, 2017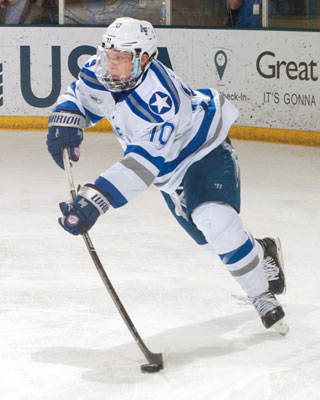 Atlantic Hockey Player of the Month: Jordan Himley, Air Force (Janesville Jets)
Jordan Himley led all Atlantic Hockey skaters with 11 points in eight February games, helping Air Force to a 6-1-1 record and the second seed in the Atlantic Hockey Tournament. His 11 points came in the form of four goals and seven assists, giving him 14 goals and 10 assists in league play. Himley had a point in six of the eight games and multiple points in four. He tied a career-high with three points, a goal and two assists, in a February 4th win over Bentley, which contributed to one of his two four-point weekends, the other coming against AIC on February 10th and 11th.
ECAC Goaltender of the Month: Merrick Madsen, Harvard (Minot Minotauros)
Madsen has started every game this season for Harvard, and the eight wins last month pushed his season record to 22-5-1, matching Denver's Tanner Jalliet for the most victories during the regular season this year. In February, Madsen registered a 2.09 goals-against average and a .920 save percentage. He allowed only 11 even strength goals all month. For the year, Madsen has a 2.17 GAA and .918 save mark. He has been named the ECAC Hockey Goaltender of the Week three times (Nov. 22, Jan. 3 and Jan. 10).
WCHA Player of the Month: Atte Tolvanen, Northern Michigan (Minot Minotauros/Minnesota Magicians)
Tolvanen opened February with an historic run and, while his record-setting scoreless streak eventually ended, he rebounded to backstop Northern Michigan into the 2017 WCHA Playoffs. The sophomore from Vihti, Finland posted four-consecutive shutouts to open the month, part of a run of five-straight clean sheets that set the WCHA record and tied the all-time NCAA Division I men's mark. He also set a WCHA standard with a 339:05 scoreless streak, the second-longest in NCAA men's annals. A full 243:23 of his record-breaking scoreless run came during February, as Tolvanen posted four-straight games of 35-plus saves. In fact, his streak of excellence is even more impressive when considering he did it with the NCAA's toughest workload; Tolvanen led the NCAA in both saves (300) and shots faced (318). His .943 save percentage ranked fourth nationally, while he tied for eighth with five wins and was tops with his four shutouts. A two-time WCHA Defensive Player of the Week during February, Tolvanen made at least 30 saves in seven-of-eight games, while topping 40 on three occasions. He wrapped up the month with a 38-save effort in the Wildcats' 5-3 win at Michigan Tech in the regular season finale, a win that helped propel Northern Michigan into the WCHA's postseason tournament. This is Tolvanen's second career WCHA monthly honor, as he also earned Rookie of the Month accolades in October 2015.
WCHA Rookie of the Month: Justin Kapelmaster, Ferris St. (Wichita Falls Wildcats)
Kapelmaster helped spark a late charge by Ferris State, as the Bulldogs compiled a 4-1-1 mark in February to take the race for postseason home ice down to the final night. The freshman from Coral Springs, Fla. posted a 3-1-0 record, while compiling 97 saves, a 2.75 goals-against average and a .898 save percentage. He opened the month with 39 saves in a 3-2 road triumph at Michigan Tech, then backstopped the Bulldogs to a 2-1, series opening victory over Alaska Anchorage on Feb. 17. Kapelmaster wrapped up the month with a 6-4 road win at Lake Superior State on the season's penultimate night, making 26 stops against the Lakers. The rookie tied for third among WCHA goaltenders with his three wins, an effort that garnered Kapelmaster his first career WCHA monthly award.
Atlantic Hockey Defensive Player of the Week: Janis Jaks, American International (Minnesota Wilderness)
Jaks had two timely goals for his two points over the weekend. He had the game-tying goal in a 1-1 result against Army on Thursday, February 23, and then the game-winning goal in overtime against the Black Knights on Saturday. Jaks was part of a defense that held Army to just two goals during the series and he finished plus-1 on the weekend.
Atlantic Hockey Goalie of the Week: Charles Williams, Canisius (Owatonna Express)
Williams posted his fifth shutout of the season in Canisius' only game of the week, a win that turned out to be very important as the Golden Griffins finished one point ahead of Air Force to claim their first Atlantic Hockey Regular Season Championship. Williams stopped all 32 shots he faced on Thursday against Mercyhurst for the win. He raised his league save percentage to 0.947 and lowered his GAA to 1.69, two of the best marks in Atlantic Hockey history.
Atlantic Hockey Rookie of the Week: Jacob Coleman, Robert Morris (Keystone Ice Miners)
Jacob Coleman scored his first career goal to cap off the Colonials 5-1 win over Niagara to close the regular season in an outdoor game at Heinz Field. Coleman dealt two assists in the game as well, scoring a career-high three points in his hometown NFL stadium. Coleman was also plus-three on the weekend.
Big 10 #1 Star: Zach Nagelvoort, Michigan (Soo/Aberdeen/Kalamazoo/Traverse City)
Nagelvoort recorded a season-high 42 saves to shut out nationally ranked Ohio State, 1-0, on Saturday in Columbus, Ohio. He earned his fourth career shutout and his first in more than two years. He stopped 31 shots in the final 40 minutes as Michigan protected a 1-0 lead, including 20 saves in the third period. He claimed his seventh career weekly award and first of the season.
Big 10 #3 Star: Jack Berry, Wisconsin (New Jersey Titans)
Berry tied a career high with 36 saves in Wisconsin's 3-2 victory at No. 4/4 Minnesota on Friday. He stopped all seven Minnesota power-play shots to keep the Gophers 0-for-4 on the power play. He also made 17 saves in the third period to help preserve a 3-1 lead entering the final period. This is his first career weekly award.
NCHC Rookie of the Week: Jared Brandt, Miami (Minot Minotauros)
Brandt had the best weekend of his young career, notching three points in a loss and tie at Minnesota Duluth, while also playing on the top defensive pair on Miami's blue line, helping fill in for injured captain Louie Belpedio. He scored his second goal of the season on Thursday, tallying the RedHawks' first goal of the game to help Miami erase a two-goal deficit in an eventual 4-3 loss, while he posted a plus-1 rating. On Friday, Brandt notched his first career multi-point game with a goal and an assist, while firing four shots on goal and logging another plus-1 rating. He again scored Miami's first goal of the game, tying the game in the second period, while handing out the primary assist on the game-tying goal late in the third period in the 3-3 overtime draw. Brandt finished the series with two goals, an assist, a plus-2 rating and six shots on goal. On the year, Brandt now has eight points, including three goals and five assists, in 29 games.