Knights and Top Prospects defenseman Dawson makes NCAA DI commitment
March 1, 2017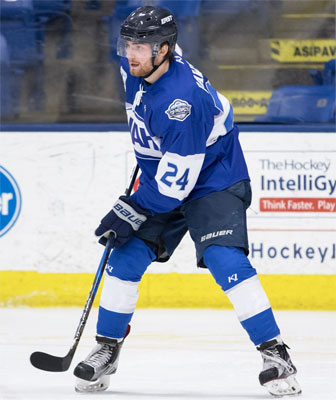 From his first step onto the ice at the Revolution Ice Centre in Pittston, Pennsylvania, Dorian Dawson has displayed nothing but high-end potential for the Wilkes-Barre/Scranton Knights. As one of the members on the organization's inaugural NAHL roster, the sturdy 6'2/200-pound defenseman has been through all manner of tests in his 103 NAHL games.
Through the first year of the Knights existence in the North American Hockey League, Dawson emerged as one of the team's minute-eaters on the back end, playing in 62 of 63 possible games between the regular and postseason. In that stretch the defenseman recorded four goals and 13 assists, while growing into a steadying, two-way presence on the ice.
"Dorian has been a big part of this team since the start," said Knights head coach Tom Kowal. "He's grown a lot in the past year and a half and it's been rewarding to see that play out both on and off the ice."
In the wake of departed NHL draft-pick Dmitriy Zaitsev, Penn-State commit Paul DeNaples and Union-commit Joseph Campolieto, there existed a great opportunity for a defenseman to rise to the top of the Knights defensive corps. Now bearing an assistant captain's patch on his sweater, Dawson has seized the role as the team's proverbial #1.
"He's been a top defenseman for us and this season he has grown into a leader in our locker room," said Kowal. "He's an extremely versatile, hard-working piece of our blue line that we use in all phases of our game. Power play, penalty kill, ahead on the scoreboard or behind-you name it, he's out there."
In 41 games played this season, Dawson has doubled his point total from the last, picking up seven goals and 23 assists while owning a +/- of +14. Through a stellar month of January, Dawson maintained a December-born point streak for nine games and posted a line of 1-10-11, +8 in nine games played. His efforts saw him named NAHL January Defenseman of the Month and secured his spot on the East Division's Top Prospects Team at this year's showcase. In his first game for the East on Monday, Dawson was +3 with one assist.
As it turns out, division one college hockey didn't need too much more convincing. After two days at the NAHL Top Prospects Tournament, it has been announced that Dawson has committed to Brown University of the NCAA's Eastern College Athletic Conference. The 1997 birth year will be a freshman for the Bears beginning in the 2018-19 season. The Brown Program has turned out a number of NHL alumni like, but not limited to, Tim Bothwell, Curt Bennett, Todd Simpson, and Ryan Garbutt.
"We're excited for Dorian's future and we are devoted to helping him continue to grow even further as a player," said Kowal. "I'm very confident that Brown is going to be very happy with the player and the person they're getting in Dorian Dawson."