Central, East and South claim Day 1 wins at Top Prospects
February 27, 2017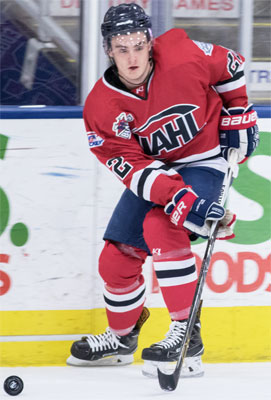 It was a great day of hockey on Day 1 of the 2017 NAHL Top Prospects Tournament, which was highlighted by over 220 NHL and NCAA scouts in attendance, who were treated to some very competitive hockey and close games.
The second and final day of the event is Tuesday, February 28th.
All NAHL Top Prospects games will be broadcast live in HD on
HockeyTV
with the call being provided by Michael Keeley of the Austin Bruins and Collin Schuck of the Corpus Christi IceRays.
Tuesday, February 28th schedule
11:00am: Midwest Division vs. East Division
2:00pm: Central Division vs. South Division
5:00pm: NAHL Selects vs. USNTDP
Day 1 recaps:
Central 4 vs. Midwest 2
– The Central Division continued their dominance at the NAHL Top Prospects Tournament with a 4-2 win on Day 1 of the 2017 event over the Midwest Division. Central got off to another patented fast start with two goals in the 1st period. Just 6:48 into the game Minnesota Wilderness forward Zach Mills lit the lamp with assists to Nicholas Cardelli (Brookings Blizzard) and Jon Richards (Austin Bruins). Less than three minutes later, Jack Murphy (Austin Bruins), who was a late addition to the event, proved his worth with the Central's second goal with assists to Mills and Tim Nicksic (MN Wilderness). After a scoreless 2nd period, the Central increased their lead in the 3rd period with two quick goals. Minot forward Zack Bross scored a highlight reel goal to make it 3-0 with an assist to Travis Kothenbeutel (Austin Bruins). Just :34 seconds later, Richards added his first goal and second point of the game with assists to Mills and Jake Dittel (Minot Minotauros). The Midwest Division made a game of things thanks to two goals later in the 3rd period courtesy of Cullen Munson (Janesville Jets) with assists to Keegan Miller (Janesville Jets) and Peter Bates (Janesville Jets), and a late goal from Joey Sofo (Coulee Region Chill) with assists to Kevin Dineen (Coulee Region Chill) and Brennan Blaszczak (Springfield Jr. Blues). In goal, Minot goalie Lucas Murray was perfect stopping all 13 shots he faced, while Josh Boyko (Brookings Blizzard) stopped 16 of 18 shots in the win. For the Midwest side, Robbie Goor (Kenai River Brown Bears) made 17 saves on 19 shots and Jake Acton (Minnesota Magicians) made 16 saves on 18 shots.
Boxscore
East 4 vs. NAHL Selects 2
– Northeast Generals and former NA3HL forward Kohei Sato had a goal and an assist, as did Johnstown Tomahawks forward and late replacement Nick Bruce to lead the East Division to a 4-2 win over the NAHL Selects on Day 1. It was the Selects who struck first in the opening period as Donovan Ott (Johnstown Tomahawks) lit the lamp with assists to Johnstown teammates Filips Buncis and Dalton Hunter. A couple of minutes later, the East tied the game at 1-1, as Sato found himself alone in front and put a shot over the glove of NAHL Selects goalie Tomas Vomacka (Corpus Christi IceRays). In the 2nd period, the East took the lead for good as Wilkes-Barre/Scranton forward Paul Maust scored to make it 2-1. The East pushed the lead to 3-1 in the 3rd period as Jeff Makowski (Topeka RoadRunners) was the beneficiary of a nice play by Nick Bruce, who stole the puck and gave it to Makowski, who scored for the East. The Selects cut the lead four minutes later to 3-2 with a goal from Cade Borchardt (Brookings Blizzard) with assists to Vince Marino (Wilkes-Barre/Scranton Knights) and Gvido Jansons (Aston Rebels). A late East Division goal made the highlight reel as Drew Blackmun (Aston Rebels) got a nifty pass from teammate Dom Garcia (Aston Rebels) with another helper from Bruce to make the final 4-2. In goal, Ryan Snowden (Topeka RoadRunners) made 12 saves on 13 shots and Jack Leavy (Aston Rebels) made 14 saves on 15 shots to pick up the win for the East. For the Selects, Vomacka made 6 saves on 8 shots, while Ivan Prosvetov (Minnesota Magicians) made 9 saves on 11 shots.
Boxscore
South 3 vs. NTDP 2
– The South Division team got a three point night from Amarillo Bulls forward Luke Edgerton, including a pair of goals and an assist, as they defeated the NTDP team 3-2 in the final game of Day 1 of the Top Prospects Tournament. The NTDP team was a combination of both 17 and 18-Team players. It was the NTDP who scored first in the opening period as Jake Pivonka buried a rebound in front. From there, Edgerton and South took over with two consecutive goals in the late stages of the 1st period. Brad Power (Corpus Christi IceRays) and David Thomson (Corpus Christi IceRays) assisted on Edgerton's first goal and Power would pick up an assist on Edgerton's second goal along with Kristaps Jakobsons (Shreveport Mudbugs). The South would push the lead to 3-1 with a goal late in the 2nd period from Power, which was his third point of the night. Max Gildon scored on a wrist shot for the NTDP with just over two minutes remaining in regulation to cut the lead to 3-2, but the South hung on thanks to some blocked shots and great goaltending from Amarillo Bulls goalie Nikita Babintsev. Dylan Lubbesmeyer (Shreveport Mudbugs) also played very well for the South in goal, stopping 12 of 13 shots, while Babintsev made 15 saves on 16 shots. NTDP goalie Ryan Ullan made 32 saves in the loss.
Boxscore