February 24, 2017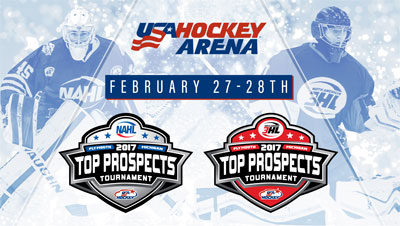 21 games on Friday and Saturday highlight the NAHL schedule this weekend as anticipation builds towards the 2017 NAHL Top Prospects Tournament, which will take place on Monday, February 27th and Tuesday, February 28th at USA Hockey Arena in Plymouth, Michigan.
One thing has become clear over the past few weeks, which is the emergence of four division leaders, who are separating themselves from the pack and all closing in on division titles.
The closest playoff races currently reside in the Central and South Divisions. Teams 2-6 are separated by just 10 points in the Central, while in the South, teams 2-4 are separated by just a lone point.
The final weekend of the NAHL regular season is just six week away and then it is onto the 2017 Robertson Cup Playoffs. The top four teams in each division at the end of the regular season will qualify for the playoffs.
In the Central Division, Aberdeen faces a big test with two games in Bismarck. Another series sees the 1st place Minot Minotauros hosting the Austin Bruins for two games. The final series has the Minnesota Wilderness on road to face the Brookings Blizzard on Friday and Saturday, with the two teams separated by just two points in the standings for 2nd place.
In the East Division, the Northeast Generals take to the road for a very tough test in Aston against the 1st place Rebels. The other series features the Wilkes-Barre/Scranton Knights in Johnstown for two games in front of some big crowds against the Tomahawks. New Jersey is idle.
In the Midwest Division, the playoff jockeying will be in full force in Springfield as the Jr. Blues host the Fairbanks Ice Dogs for two games. Kenai River will be in Janesville for two game against the Jets and Coulee Region will have one game on the road Saturday against the Minnesota Magicians.
In the South Division, the 1st place Lone Star Brahmas will take to the road for a tough series against the red-hot Corpus Christi IceRays, who have won seven straight games. Odessa is in Shreveport for a pair of games and Wichita Falls will host Amarillo for two games. Topeka is idle.
Friday, February 24th
Northeast at Aston - 7:00 PM EST
Wilkes-Barre/Scranton at Johnstown - 7:30 PM EST
Kenai River at Janesville - 7:00 PM CST
MN Wilderness at Brookings - 7:05 PM CST
Lone Star at Corpus Christi - 7:05 PM CST
Fairbanks at Springfield - 7:05 PM CST
Amarillo at Wichita Falls - 7:05 PM CST
Odessa at Shreveport - 7:11 PM CST
Aberdeen at Bismarck - 7:15 PM CST
Austin at Minot - 7:35 PM CST
Saturday, February 25th
Wilkes-Barre/Scranton at Johnstown - 12:00 PM EST
Northeast at Aston - 7:00 PM EST
Fairbanks at Springfield - 6:05 PM CST
Kenai River at Janesville - 7:00 PM CST
MN Wilderness at Brookings - 7:05 PM CST
Lone Star at Corpus Christi - 7:05 PM CST
Coulee Region at MN Magicians - 7:05 PM CST
Amarillo at Wichita Falls - 7:05 PM CST
Odessa at Shreveport - 7:11 PM CST
Aberdeen at Bismarck - 7:15 PM CST
Austin at Minot - 8:05 PM CST