Brookings completes three-win weekend by beating Wings
February 20, 2017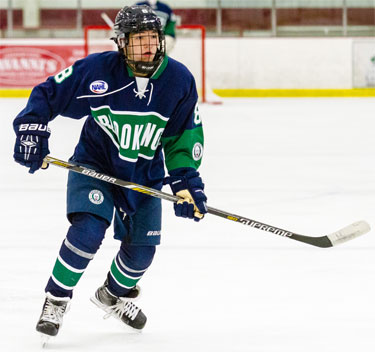 Aberdeen 2 @ Brookings 7 – Thanks to their third win of the weekend, which included a 7-2 victory at home on Sunday over the visiting Aberdeen Wings, the Brookings Blizzard solidified their 3rd place standing in the Central Division in the lone NAHL game on Sunday.
Seven different players scored a goal for the Blizzard, who scored five 3rd period goals to break open a close 2-1 game.
The Wings scored first in the 1st period on Kevin Fitzgerald's 20th goal of the season. However, that was quickly answered by a goal from Brookings forward Cade Borchardt, who scored his 21st goal of the season.
Brookings took the lead for good with the lone goal in the 2nd period from Brett Callahan.
In the 3rd period, the Blizzard blew the game wide open with three goals in a two-minute span as Brenden Stanko, Doug Larson and Chase Brand all lit the lamp to make the score 5-1. The Wings would respond with a goal from Logan Jenuwine to make it 5-2, but any momentum was snuffed out as just :25 seconds later, the Blizzard made it 6-2 on a goal from Cam Babiak. Paul Cotter would score the final goal late in the period, his 20th of the season to make the final 7-2.
Josh Boyko made 30 saves in the win, while Forbes Ploszaj made 25 saves in the loss.