Watch: NAHL Now Alumni Series with Chad Catt
February 15, 2017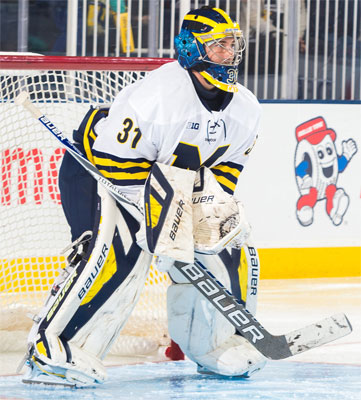 In a new video series for the 2016-17 season, the North American Hockey League (NAHL) is please to feature their extensive list of alumni in the NHL, NCAA and beyond in a new series entitled the NAHL Now: Alumni Series.
The NAHL Now: Alumni Series will be a regular video segment that highlights an alumni of the NAHL, who are currently playing in the NHL, NCAA or elsewhere as we try and catch up with their current situation, as well as, take a look back during their time playing in the NAHL.
We also try and get some feedback from coaches who constantly scout the league looking for players and who have made a lasting impact on the league
During a recent trip to the state of Michigan, the NAHL traveled to Ann Arbor, Michigan to catch up with the half a dozen alumni currently playing NCAA Division I hockey at the University of Michigan. One of those alumni is former NAHL and Aberdeen Wings/Soo Eagles/Amarillo Bulls goalie Chad Catt, who is in his second season with the Wolverines.
"I thin I learned to relax and let the pieces fall where they may. Top Prospects was great because that's where I really started to talk with NCAA teams. Don't worry about what other guys are doing, just stay calm and confident in your abilities." -Chad Catt
Catt is another great NAHL success story. He began his NAHL career during the 2012-13 season, playing for the Amarillo Bulls. He would then join the Aberdeen Wings and enjoy a very successful junior career with the Wings for the better part of two seasons. He was traded in the later half of the 2014-15 season to the Soo Eagles. He played in the 2015 NAHL Top Prospects Tournament and weeks after playing in the event, he made his commitment to the University of Michigan.
Catt appeared in 89 career NAHL regular season games in three years. He posted a career record of 42-36-9, a career goals against average of 2.48 and a career save percentage of 92.2%. 71 of his 89 career regular season games were played with the Aberdeen Wings.
Freshman season at Michigan (2015-16)
• Providing depth for Michigan's goaltending corps, Catt made his career debut in net in 2015-16.
• Made career debut vs. Niagara, making one save (11/13)
• Made 12 saves in relief vs. Wisconsin, in addition to stopping both shots in shootout win (12/5)
• Made eight saves in the third period of exhibition vs. U.S. NTDP U-18 Team (1/21)