Jets, Titans win on Tuesday
February 15, 2017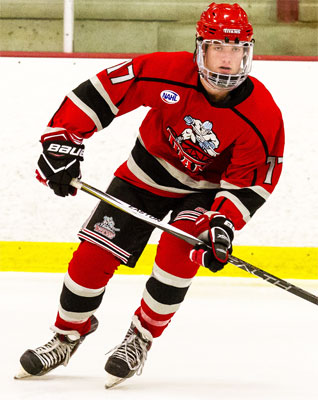 Janesville 5 @ Springfield 2
– Defenseman Alec Semandel had a goal and an assist and goalie Jake Barczewski made 26 saves as the Jets widened their lead in the Midwest Division thanks to a 5-2 win in Springfield on Tuesday night. The Jets got off to a fast start thanks to 1st period goals from Kip Hoffman and Michael Maloney, which made the score 2-0. Before the period was out, the Jr. Blues got on the board thanks to a goal from Matt Long. That momentum would keep going early in the 2nd period as Long scored again to make it 2-2. Late in the 2nd period, the Jets seized control as Semandel scored his 3rd goal of the season, which turned out to be the game-winner. The Jets added two more goals in the 3rd period, which included tallies from Cullen Munson and Jack Gates. Jr. Blues goalie Jordan Greenfield-Flemon took the loss, making 43 saves.
Boxscore
New Jersey 4 @ Wilkes-Barre/Scranton 4 (SO)
– Nick Boyagian scored a goal and added the shootout winner as the Titans edged the Knights on Tuesday afternoon, 4-3 in a shootout. Sam Antonitsch reclaimed the Knights goal-scoring lead when he ripped a shot past Ryan Ferland late in period to give the Knights a 1-0 lead. The Titans struck back in the 2nd period as an open Nick Boyagian beat Matteo Esposito on a smooth set up from Ryan Wheeler and Greg Malafronte to tie the game. Just over a minute later, Kyler Head won a board battle on the right wall of the Knights zone and flipped the puck to Jordan Kaplan. Kaplan toe-dragged his way through the slot and slipped a puck through the five-hole to give New Jersey the 2-1 lead. Antonitsch would rise to the occasion once again to help tie the game at 2-2 as he put home a pass from Paul Maust. The 3rd period opened with Curtis Carlson taking a Matt Kidney feed and serving Joey Kubachka a one-timer goal on a silver platter. A back and forth third period came to a head when, with under a minute to go, the Titans swapped Ferland for an extra attacker. After a prolonged shift in the Knight's zone, a puck deflected off a skate settled in the middle of the slot. Oskar Stromberg found the rubber and flipped his first goal of the season over the shoulder of Esposito to tie the game in regulation's closing seconds. In the shootout, both Boyagian and Greg Malafronte scored for the Titans to secure the extra point. Ferland made 25 saves in the win, while Esposito made 31 saves in the loss.
Boxscore