Knights double up Generals on Sunday, 4-2
February 12, 2017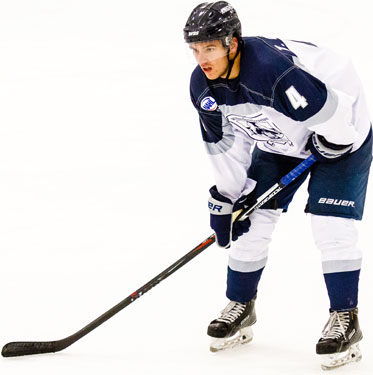 Northeast 2 @ Wilkes-Barre/Scranton 4 – In the lone NAHL game on Sunday, Matt Kidney, Reed Robinson and Jimmy Elser all had multi-point games to help the Wilkes-Barre/Scranton Knights pick up a 4-2 home win over the Northeast Generals, which salvaged a weekend split of the series.
The Knights got the scoring going early in the 1st period thanks to the power play. Matt Kidney was the recipient of some nice passing as he crept in from the left point and wired a shot past the low blocker side of Generals goalie Parker Swanson.
The Knight would take a 2-0 lead just over seven minutes into the 2nd period as a 2 on 1 led to a great pass from Jimmy Elser to Reed Robinson, who potted his 9th goal of the season. The Generals made a game of things less than two minutes later as a breakout pass to Hunter Canestra, led a great play by the NAPHL'er as he juked the defenseman and put a nice move on goalie Grant Valentine for his first career NAHL goal.
The Knight would regain their two-goal lead just over four minutes into the 3rd period as a break up the ice my Mike Gelatt got the puck to Curtis Carlson on the right wing, who fired a shot past Swanson for a 3-1 lead. The Generals would again close the gap to a goal as Artsiom Anosau got the puck in the low slot and sent a shot over the blocker of Valentine. The Knights responded just over two minutes later as Tim Gelatt fired home his 3rd goal of the season, which would stand as the final goal of the game.
Valentine had 22 saves in the win, while Swanson made 37 saves in his first NAHL start.