Exclusive: NAHL billet families provide more than housing
February 9, 2017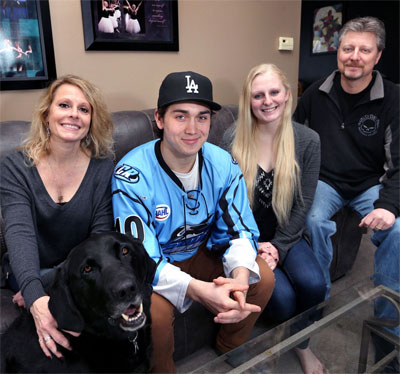 By Joe Mellenburch, La Crosse Tribune
When Matt Doran left La Crosse, Wisconsin last May — shortly after the NAHL's Coulee Region Chill were eliminated from the Midwest Division playoffs — he barely packed.
A native of St. Louis, Missouri, Doran hit the road with little more than a laundry basket full of clothes in his back seat.
He left the rest behind.
"He's never moved anything out. We've never asked him to. That's his room," said Tina Theisen, a Holmen resident, who has hosted Doran as a guest — and an adopted family member, she'd say — in her home since 2014.
"This is his home, whenever he wants it to be."
Doran has been a thankful recipient of Theisen's hospitality the past three years, but his situation isn't exactly unique. Every season, hundreds of American junior hockey players leave their homes in search of another, hoping to further their collegiate — or even professional — ambition with a productive career at the junior level.
In many cases, those players travel hundreds of miles to do so. Excluding the 12-hour, 55-minute plane ride of newly acquired forward Jacob Schmidt-Svejstrup — a native of Charlottenlund, Denmark — the Chill collectively traverse an average of 291.6 miles between their respective hometowns and La Crosse.
Given that distance, junior players depend heavily on the generosity of strangers; a home away from home. That's where billets — or host families — play an imperative role.
"Matt blended with our family right away," Theisen said. "I laugh; I always say it's like he's always been here. I think just with how he was raised, how his mom and I are very much alike, it made him comfortable here, and we're very comfortable having him stay with us.
"We've never even thought about not having him live here. This is his home."
As a junior hockey player, Doran isn't alone in his need for temporary living accommodations, but his bond with the Theisen family is a special one.
Facilitating that kind of connection takes plenty of work.
Pairing players and host families is a full-time task, one that requires careful consideration; not to mention thorough background checks on both sides. It isn't easy, and it takes time.
But you don't have to tell Coulee Region housing director Shelly LaPlount, whose office becomes a proverbial jigsaw puzzle in mid-August.
"When it's that couple weeks before the players come in, I have all the applications lined up all around here," said LaPlount, pointing to the desk and cabinet space throughout her office at Green Island Ice Arena.
"It's just kind of this big puzzle, and it's our job to determine who's going to fit where best."