Odessa forward Zech makes NCAA commitment
February 8, 2017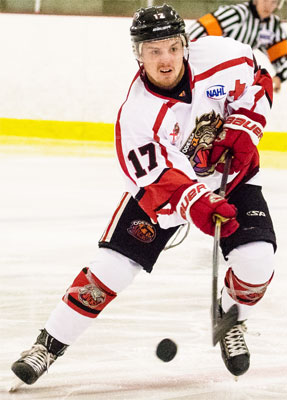 By Cody Lefkowitz, Odessa Jackalopes
The Odessa Jackalopes of the North American Hockey League (NAHL) are proud to announce that centerman, Zach Zech, has committed to play college hockey for University of Wisconsin-Stevens Point, beginning in the 2017-18 season. UW-Stevens Point is an NCAA Division III hockey program, and members of the Wisconsin Intercollegiate Athletic Conference.
"Committing to Wisconsin Stevens Point was a no brainer," exclaims Zech. "I really wanted to go to a successful organization with a great coach. There is no better place than Stevens Point in my mind, and it seems like I would fit into their style of play very well. I'm beyond excited and blessed to be joining them next season".
Zech, 20, has had a great season to date, ranking second the team in the three major categories with 14 goals, 22 assists, and 36 points.
The South Lyon, Michigan native came to the Jackalopes when he was 17 years old. Before coming to the Odessa, Zach played for hometown midget teams, including multiple Victory Honda and Little Caesars teams. Zech found his way into the NAHL with the Johnstown Tomahawks in the east division before a midseason trade sent him to Odessa.
"I wanted to play in front of fans," started Zech. "I went to the Tomahawks and just after Christmas, I was traded here and I've been in love here ever since.
Since the trade, Zech has been a staple in the Jackalopes lineup, including earning himself the honor of alternate captain for his final season.
"It means a lot that Coach Gatto has enough confidence in me to pick the team up and lead," said Zach. "We show the young guys what we expect and what the Jackalopes tradition means to us".
Standing at 5-foot 10-inches, weighing 175 pounds, Zach has been moved to the wing a few times, but the center position is where he plays best. He (Zach) is a player that needs to keep his feet moving and be in on every play to be effective.
"He's a puck magnet," explains head coach, Greg Gatto. "He's a very skilled player that knows how to be around the puck. He's been extremely successful here and it won't stop now".
Zach's aggressive and never give up attitude on the ice has earned him some special honors with the team. Currently, Zach has played in 115 Jackalopes games, the 4th most in Jacks history. Not to mention, Zech is 2nd in assists (52), 5th in goals (32) and 4th in points (84). Another honor Zach had was surpassing the 100 point mark in his junior hockey career with a goal and an assist on February 4th at home.
"The feeling is absolutely amazing," proclaims Zach. "Knowing that all my hard work, blood, sweat and tears are now paying off. It's awesome being recognized for it".
Zach isn't the only Zech in the Jackalopes family. Younger brother, Cooper, joined the team last season, and has loved playing with his older brother since then.
"I always looked up to my brother and never thought we would get the chance to play together," Cooper reminisced. "Being able to play with him for the last 2 years is an experience that I will never forget and it has brought our family together as well".
Zach will be the third Jackalope to enter UW-Stevens Point in the past 5 years. Zech will get to play alongside Brennan Miller and Andrew McLean next season. Lawrence Cornellier is also in his final season donning the Pointers' purple and gold.