Odessa comes from behind to beat Amarillo on Tuesday
February 1, 2017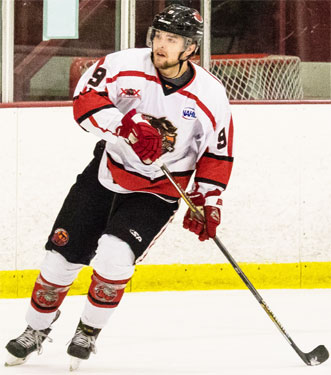 Amarillo 3 @ Odessa 5 - The Odessa Jackalopes defeated the Amarillo Bulls, 5-3 at Ector County Coliseum in Odessa in the lone NAHL game on Tuesday night. The Jackalopes moved into a tie for fifth place in the South Division with the Bulls.
George Mika, Brey Crowder and Nestor Plarsmo tallied for the Bulls, while Brandon Bussi took the loss in goal. He was lifted in the third period for Nikita Babintsev.
The Amarillo Bulls didn't seem to mind the 10-day layoff as they played with energy passion and at times took the play to Odessa. George Mika gave the Bulls a 1-0 lead when he scored off a terrific pass from Nestor Plarsmo at the 2:07 mark. The rest of the period was dominated by Bulls goalie Brandon Bussi who came up large keeping his team in front. His best stop was on a Chase Thudium partial breakaway. The Bulls added to their lead in the dying ends of the stanza when Brey Crowder scored on the power play from Steven Ipri and George Mika. Odessa outshot Amarillo 12-9 in the first period.
It was a wild second period with 29 total shots between the two teams. The Jackalopes went to work scoring three times to take a 3-2 lead. Joe Kinsella scored on a point shot and then Chase Thudium tapped home a 2-on-1. Noah Poindexter gave his team the league when he deflected a shot through the legs of Bussi. The Jackalopes outshot the Bulls 18-11 in the second period.
The first five minutes of the third period didn't start well for the Bulls as the Jackalopes added to their lead with two goals, 30-seconds apart. Rowan Savidant scored on a sharp angled shot and then Nick Wilson pushed one through a scrum in front of the net. That fifth goal sent Brandon Bussi to the net in favor of Nikita Babintsev. Amarillo rallied late as Nestor Plarsmo stole the puck off a defenseman's stick and rifled a quick shot to the top corner to make it 5-3.
Bussi took the loss, making 29 saves, while Jon Flakne got the win with 10 saves after he came in and replaced Jonny Hogue.