January 27, 2017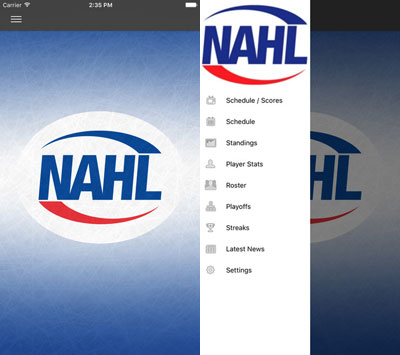 Just two weeks remain until the USA Hockey trading deadline, roster freeze and cut off for spots in the NAHL Top Prospects Tournament.
With that said, this weekend has 22 games on the slate, so there is plenty of opportunity for teams to move up in the standings and for players to continue to make their impression.
With the season almost two-thirds in the books, time is of the essence in the scramble to make the Robertson Cup Playoffs.
In the Central Division this weekend, play opened up Thursday night with Aberdeen coming from behind to beat Minot, 3-2. The Wings will look to keep their winning ways going with a two-game home-and-home series against Bismarck. Minot will take to the road twice to face the Brookings Blizzard.
In the East Division, the Johnstown Tomahawks will look to slow down the surging Wilkes-Barre/Scranton Knights with a two game set in Johnstown. New Jersey is idle.
In the Midwest Division, the Minnesota Magicians will pay a visit to Springfield for two games against the Jr. Blues.
In the South Division, playoff positioning is one the line as Wichita Falls is in Shreveport for a pair of games. Meanwhile, the 1st place Lone Star Brahmas put their 10-game winning streak on the line with a two-game set in Topeka on Saturday and Sunday and the Corpus Christi IceRays are in Odessa for a pair of games against the Jacks. Amarillo is idle.
In out-of-division action, the Coulee Region Chill will travel North to face the Minnesota Wilderness in a pair of games. The red-hot Janesville Jets will make the short trip to Austin, Minnesota for a pair of games against the Bruins. The Alaskan adventure continues for both the Aston Rebels and Northeast Generals as the Rebels are in Fairbanks for two games, while the Generals are in Kenai River for a series.
Friday, January 27th
Coulee Region at MN Wilderness - 6:00 PM CST
Wilkes-Barre/Scranton at Johnstown - 7:30 PM EST
Janesville at Austin - 7:05 PM CST
Minot at Brookings - 7:05 PM CST
Corpus Christi at Odessa - 7:05 PM CST
MN Magicians at Springfield - 7:05 PM CST
Wichita Falls at Shreveport - 7:11 PM CST
Bismarck at Aberdeen - 7:15 PM CST
Aston at Fairbanks - 7:30 PM AKST
Northeast at Kenai River - 7:30 PM AKST
Saturday, January 28th
Wilkes-Barre/Scranton at Johnstown - 7:00 PM EST
MN Magicians at Springfield - 6:05 PM CST
Janesville at Austin - 7:05 PM CST
Minot at Brookings - 7:05 PM CST
Coulee Region at MN Wilderness - 7:05 PM CST
Corpus Christi at Odessa - 7:05 PM CST
Lone Star at Topeka - 7:05 PM CST
Wichita Falls at Shreveport - 7:11 PM CST
Aberdeen at Bismarck - 7:15 PM CST
Aston at Fairbanks - 7:30 PM AKST
Northeast at Kenai River - 7:30 PM AKST
Sunday, January 29th
Lone Star at Topeka - 2:05 PM CST