January 19, 2017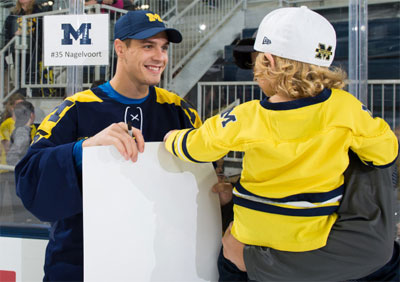 Atlantic Hockey Goalie of the Week: Charles Williams, Canisius (Owatonna Express, 2010-11)
Williams had a tremendous weekend between the pipes as Canisius took three points at Air Force. He stopped 84-of-87 shots faced, including a career-high 46 in the Griffs' 2-2 tie on Saturday. It was the fifth time this season that he eclipsed 40 saves in a game. Williams also produced a 38-save effort in Friday's 4-1 win, including all 30 attempts he faced in the final two periods.
Atlantic Hockey Rookie of Week: Patrik Demel, AIC (Bismarck Bobcats, 2015-16)
Demel made his collegiate debut on Saturday night against RIT, helping AIC to a 5-3 victory. Demel had a three-point showing, scoring two goals and dishing out one assist. His first goal tied the game at 1-1, then with the score tied at three apiece, Demel scored his second goal of the night to put AIC ahead for good, recording his first career game-winning goal.
Hockey East Rookie of the Week: Tyler Irvine, Merrimack (Topeka RoadRunners, 2014-15)
Tyler Irvine (Livonia, Mich.) registered the second multi-point game of his career after scoring and assisting in Merrimack's 4-2 win over Notre Dame on Saturday night. Irvine assisted on the game-winner and added a late insurance goal in the win.
ECHL Player of the Week: Christian Hilbrich, Wheeling Nailers (Wenatchee Wild, 2009-10)
Christian Hilbrich of the Wheeling Nailers is the Sher-Wood?Hockey ECHL Player of the Week for Jan. 9-15. Hilbrich scored five goals and added four assists for nine points in four games last week. The 24-year-old had a goal and an assist in a 5-2 win over Toledo on?Wednesday and in a 4-3 loss to the Walleye on?Friday, picked up an assist in a 5-1 loss against Kalamazoo on Saturday and had four points (3g-1a) in a 5-1 victory at Kalamazoo on?Sunday. A native of Port Credit, Ontario, Hilbrich has 24 points (9g-15a) in 35 games with the Nailers this season.
SPHL Player of the Week: Berkley Scott, Knoxville Ice Bears (Coulee Region Chill/Alaska Avalanche, 2009-11)
The Southern Professional Hockey League (SPHL) today announced Berkley Scott of the Knoxville Ice Bears is the Bauer Player of the Week for January 9-15. Scott scored four goals, including two game-winners, assisted on four others and was +7 in leading the Ice Bears to three wins this past weekend. The wins extended Knoxville's unbeaten streak to six games and moved them into third place in the SPHL standings. On Friday, the Anoka, MN native scored once and added an assist in Knoxville's 6-2 win over Columbus. Scott repeated that effort the following night, scoring the eventual game-winner late in the second period and assisting on the empty-netter as the Ice Bears beat Evansville 3-1 on Saturday. Scott closed out the week with a two-goal, two-assist performance as Knoxville rallied from a 3-1 second period deficit to defeat first-place Huntsville 5-4. Scott currently ranks tied for first in the SPHL with five game-winning goals, is third in points (28) and fourth in assists (18). He is currently riding 11-game assist and point streaks, both longest in the SPHL this season, having recorded 15 assists and 23 points during that time. Scott has nine multi-point games and is +15 during the streak, which began December 16.
Under the motivation and leadership of senior University of Michigan goaltender and NAHL alum
Zach Nagelvoort
(Aberdeen/Soo/Kalamazoo/Traverse City), the University of Michigan ice hockey team is hosting a book drive that will run through the Feb. 4 home game against Ohio State. Books can be dropped off in the Yost Ice Arena lobby anytime from now through Feb. 4. Nagelvoort is a sport management major so working with local schools like Bryant and Lawton in Ann Arbor, MLKECA, and getting involved with Athletes for Community Transformation, is something he chooses to do in his spare time. "This is something I'm passionate about," Nagelvoort explained. "I'm going to play hockey as long as I can but I'm thinking of going into education when I'm done. I'm kind of figuring that out. This, I'm just realizing, is something I care about." (
Story
)
The sharp mind that has Air Force's and NAHL alum
Kyle Haak
(Aberdeen Wings) leading the academy's sophomore class academically also helps him pace the hockey team in points. "He's brilliant in the classroom," coach Frank Serratore said. "I have been doing this for a long time and I can tell you there is zero correlation between being excellent in the classroom and having good hockey sense. But with Kyle, he has (both). He's a thinker on the ice. (Before a game) some guys never ask questions. Some guys are afraid to ask questions. He asks really good questions. He is dialed in." Those questions before and during games and practices are how the Michigan native (21 points, team-high 14 assists) leads the second-place Falcons (13-7-4, 10-4-2). AFA travels to Atlantic Hockey Conference rival and third-place Robert Morris (13-6-3, 9-5-2) this weekend. (
Story
)