Watch: NAHL Now Alumni Series with Jack LaFontaine
January 17, 2017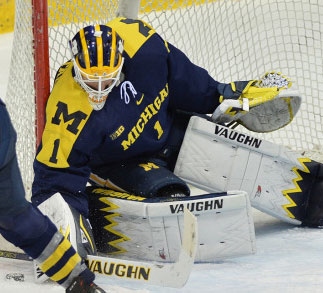 In a new video series for the 2016-17 season, the North American Hockey League (NAHL) is please to feature their extensive list of alumni in the NHL, NCAA and beyond in a new series entitled the NAHL Now: Alumni Series.
The NAHL Now: Alumni Series will be a regular video segment that highlights an alumni of the NAHL, who are currently playing in the NHL, NCAA or elsewhere as we try and catch up with their current situation, as well as, take a look back during their time playing in the NAHL.
We also try and get some feedback from coaches who constantly scout the league looking for players and who have made a lasting impact on the league
During a recent trip to the state of Michigan, the NAHL traveled to Ann Arbor, Michigan to catch up with the half a dozen alumni currently playing NCAA Division I hockey at the University of Michigan. One of those alumni is former Janesville Jets goalie Jack LaFontaine, who is in his freshman season with the Wolverines.
"The biggest benefit about playing in the NAHL was the competition and getting the opportunity to play every night. I gained a lot of confidence during my time there. You have to work hard and keep persevering through adversity." -Jack LaFontaine
LaFontaine played in the NAHL during the 2015-16 season for the Janesville Jets. During that time he not only earned a NCAA Division I opportunity to the University of Michigan, but he was also selected in the 2016 NHL Draft in the 3rd round by the Carolina Hurricanes.
LaFontaine was the Midwest Division Goalie of the Year. He also played for the NAHL Selects team at the 2016 NAHL Top Prospects Tournament. LaFontaine went 24-8-7 with a 2.16 GAA and .921 Save %, leading the Jets to the postseason, where he had a 1.89 GAA and .926 Save % in four starts.
So far during his freshman season at Michigan, he has accomplished the following:
• Recorded 12 saves on 12 shots in relief in exhibition vs. Windsor (10/2)
• Stopped 28 of 29 shots while winning first career start at Ferris State (10/15)
• Stopped 42 of 45 shots as well as recording a save in shootout in tie vs. Michigan Tech (10/22)
• Recorded 32 saves in loss at Dartmouth (10/29)
• Tallied 30 saves in loss vs. Boston University (11/12)
• Stopped 25 of 27 shots in loss vs. Lake Superior State (11/25)
• Recorded 17 saves in the third period in loss at Penn State (12/1)
• Stopped a career-high 53 shots in loss at Penn State (12/2)