Springfield completes sweep of Magicians with 6-3 win
January 4, 2017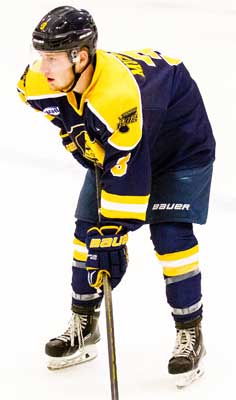 MN Magicians 3 @ Springfield 6 – Jordan Muzzillo, Ryan Leibold and Max Nylander each scored twice as the Springfield Jr. Blues completed a mid-week home sweep of the Magicians thanks to a 6-3 win on Tuesday.
The 1st period saw a flurry of offense as the Magicians got off to a fast start with two goals in the first nine minutes of the game from Pieter Von Steinbergs (3) and Hunter Lellig, who scored his first goal of the season. That would end the night for starting Jr. Blues goalie Mike Robinson in favor of Garrett Nieto. The switch sparked the Jr. Blues, who then scored four straight goals including two from Leibold and one from Nylander later in the 1st period.
In the 2nd period, the Jr. Blues added to their lead with Muzzillo's first of the game in the 2nd period that made the score 4-2. At the end of the period, the Magicians would also make a goaltending change as Ivan Prosvetov was lifted in favor of Jake Acton.
The Magicians responded with a goal early in the 3rd period from Brendan Skarda to make the score 4-3, but the Jr. Blues added two late goals as Nylander and Muzzillo both potted their second goals of the game to finish off the game and the sweep by a score of 6-3.
Nieto made 20 saves in relief and picked up the win, while Prosvetov made 31 saves in the loss and Acton making 14 saves in the loss.