Gongshow Flow of the Month winner for December announced
January 3, 2017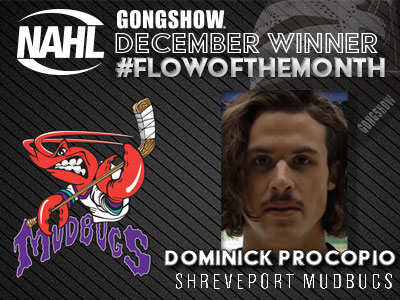 The calendar turns to 2017 with a whole new collection of beauty flows in the NAHL. December saw its share of good ones. With all the public appearances, players were certainly in the holiday spirit of letting their flows show and the weather turning cold certainly made it easier to grow lots of locks.
With that said, the North American Hockey League (NAHL) announced its GONGSHOW Flow of the Month winner for December 2016.
The winner this month is defenseman Dominick Procopio of the Shreveport Mudbugs.
Procopio, 19, is a seasoned NAHL veteran now in his second year in the league. The native of Gross Pointe, Michigan, has had a solid 2016-17 campaign in Shreveport with 9 assists in 26 games played.
Procopio (6'2/190) played last season for the Brookings Blizzard in the NAHL. Prior to coming to the league, he played his midget hockey in Michigan for Compuware and Victory Honda
Now onto the flow… Procopio chimes in with some sweet flow. This has the makings of 'The Most Interesting Man in the World' vibe. The flow has a nice Mediterranean feel to it with a nice base of stringy hair flow on top and to the sides.
For extra points, Procopio tops things off with a dirty, thin and effective duster (mustache) that really brings out the look. Note to players: this is a textbook hockey flow and duster combo at its finest and a very good effort for the month of December.
Congrats Dominick… and for his effort, he will be receiving a GONGSHOW Gear hat.
For the sixth season in a row, GONGSHOW is the exclusive sponsor of the Flow of the Month promotion exclusively on the NAHL and GONGSHOW Twitter sites @NAHLHockey and @GONGSHOWGEAR.
Fans and players alike are encouraged to submit photos of their best 'hockey hair' or 'flow' via Twitter by the end of every month during the regular season.
To enter the contest for the month of January, submit your best #FlowoftheMonth pictures by January 31st to @NAHLHockey and @GONGSHOWGEAR. Two winners will be selected in the beginning of February. Winners will receive a GONGSHOW Gear hat.
GONGSHOW Gear Inc. (GONGSHOW) is the Official Lifestyle Hockey Apparel of the NAHL. GONGSHOW is also the sponsor of the NAHL TV platform on the NAHL website at NAHL.com. GONGSHOW is recognized as the hockey good industry's premier manufacturer of innovative, high quality, fashionable and trend setting clothing apparel for hockey athletes of all ages and abilities.