World Juniors begins in Canada with big NAHL presence
December 26, 2016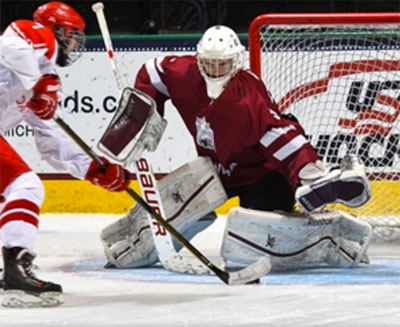 After a three year absence, Latvia is back and ready to go in a top flight World Junior Championship.
Whether they make it to next year's tournament remains to be seen, but for now Latvia is living in the present and gearing up for their biggest junior hockey event in years.
The Latvians kick off their World Junior campaign in Toronto on Boxing Day against the United States in Group B action. Their other games are against Russia, Canada and Slovakia in that order.
As they open up play on Monday against Team USA, they will be relying heavily on the presence of players that are currently playing in the NAHL. In total, six players on the Latvia World Juniors roster are currently playing in the NAHL.
Those players include goalie Mareks Mitens and defenseman Gvido Jansons from the Aston Rebels, defenseman Tomass Zeile of the Shreveport Mudbugs, and forwards Filips Buncis (Johnstown), Ricards Bernhards (Springfield) and Roberts Blugers (Fairbanks).
One of the assistant coaches for Team Latvia is current Shreveport Mudbugs head coach Karlis Zirnis.
Denmark goalie Emil Gransoe currently is playing for Denmark at the event.
However, for a country that has produced high quality goaltenders such as Arturs Irbe, Peter Skudra and Kristers Gudlevskis, one of the biggest strengths to this Latvia squad will be eighteen year old netminder Mitens. The 6'1 netminder from Ventspils, a city of 42,000 along the Baltic Sea in northwestern Latvia is currently enjoying the best season of his young career with the Aston Rebels of the NAHL.
For Mareks, it's his first season playing in North America, so one would automatically assume that there would be some sort of transition period to get used to the smaller ice surface. However, that doesn't seem to be the case for this young netminder.
Going into the World Juniors, Mitens is posting some of the best numbers in the history of the North American Hockey League. In twenty-two games this season, Mitens has accumulated an 18-4 record with eight shutouts and a .945 save percentage to go along with a miniscule 1.32 goals against average.
One could speculate that depending on how this World Juniors goes, Mitens will have earned an NCAA scholarship and even a selection at the NHL Entry Draft in June might be in order if Mitens can continue his stellar season.
Maybe Mitens can now carry the torch for the Latvian contingent. IIHF.com sat down with the young goalie ahead of the start of the Juniors.
How did you get into hockey and at what age?
Hockey has always been a very popular sport in Latvia. I always wanted to play hockey but it's an expensive sport to get into. I used to go as a kid when I was five and six years old to public skating with my dad and I guess the local coach saw me there and told my dad that I was a very good skater for my age. So he invited me to a team practice and they said that they would give me equipment. That's how I started playing hockey, I believe it was destiny or something like that.
Why did you decide to become a goaltender?
I was only a skater for only a month before I started playing goalie. I always liked the responsibility that goalies have - they are all by themselves. That's what i liked. It was more fun being a goalie than a player.
Are you a fan of other Latvian goalies like Arturs Irbe, Peter Skudra, Kristers Gudlevskis?
Yes of course, I'm a huge fan of Latvian goaltenders. I don't remember Skudra so much growing up, but Arturs Irbe is a famous hero back home.
Describe your playing style?
My style is something between modern goalies and old school goalies. I'm trying to make my own style.
Are you excited by the chance of representing Latvia at the World Juniors?
It's like a dream come true to play at the World Juniors and representing your country. I'm just really excited about it.
What are some of the goals you and your team hope to achieve at the tournament?
Our goal as a team should be to reach the quarterfinals. We want to show our best game and upset some of the bigger hockey countries.
How do you see the national team moving forward?
Hockey is growing in Latvia. There are many skilled players that might make a difference in the future and I think Latvia is getting more popular in the hockey world every year.
How is your season going in the NAHL? And what made you decide to come to North America?
I just wanted to try something new, and here in the United States there is more opportunities, more scouting, and things like that. My first season in the US so far is going amazing for me. It's a really good team I'm on that helps me a lot and I try to help them. We make each other better every day.
Do you feel you have competition for the starting goalie job from the other goalies at camp?
Yes, for sure it's going to be a big competition for the starting job. The other two are both great goalies. I know them and have played with both of them before. It will be fun to meet them again at camp since they're both really good guys, and it's easy to play with both of them because we are all friends. It's a friendly competition, playing with them doesn't feel like a competition.