Janesville forward Dodero makes NCAA DI commitment
December 20, 2016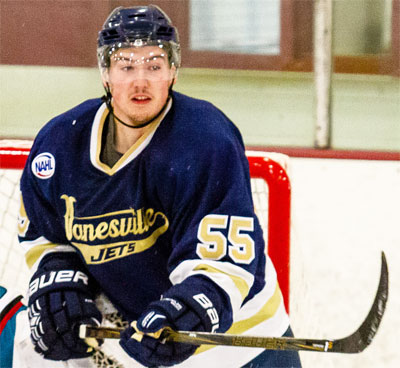 The Janesville Jets, proud members of the North American Hockey League (NAHL), are pleased to announce that forward Chris Dodero has committed to play NCAA Division I hockey for the American International Yellow Jackets of Atlantic Hockey.
"AIC gives me a great opportunity in both playing hockey and getting an education," said Dodero.
Dodero (5'10/185) is a 20-year-old winger with over 200 games of experience between the NAHL, the United States Hockey League (USHL), and the British Columbia Hockey League (BCHL). The Chicago native enters the holiday break fifth in league scoring, third on the team, with seven goals and 25 assists for 32 points.
"Dodero's a consistent player who makes the players around him better every day," said Joe Dibble, fifth year Jets head coach and general manager. "He's an unselfish playmaker that every guy loves to play with. Probably the best thing about him is his game on the ice translates to his character off the ice. He puts his teammates above himself in every situation and it's paid off for him here."
Dodero, whose 25 assists lead the NAHL, credited his teammates and coaches for his commitment.
"The coaches are great here," said Dodero, who came to the Jets having played for five different junior hockey organizations in his first four seasons. "It's a great team, there are great guys in the locker room, and I think we're one of the top teams in the league. Being a part of that here has helped me develop."
The Yellow Jackets made big investments in their future last summer, hiring a familiar face as their new head coach, and announcing a partnership with the 6,866-seat MassMutual Center, a state-of-the-art facility located just one mile away from their campus in Springfield, Massachusetts. Bench boss Eric Lang is an alumnus and former Graduate Assistant Coach who returned to AIC from Army West Point.
"Coach Lang helped Dodero feel comfortable all the way through this process," Dibble said. "Lang and the AIC staff do a great job in putting their players at ease in regards to knowing the culture they're getting into and where they'll be the next four years."
Though he'll soon be a Division I hockey player practicing and playing at a professional grade arena, Dodero views his commitment as just the next step in the team goal.
"It's nice to get my commitment," he admitted, "but ultimately the team goal is winning a championship."
Dodero becomes the sixth player of the 2016-17 Janesville Jets to commit to a Division I program, joining Cole Paskus (UMass Lowell), Colin Felix (UMass Amherst), Jack Gates (Colorado College), Michael Maloney (Brown University), and Joey Abate (Wisconsin).