NAHL announces Bauer Divisional Stars of the Week
December 19, 2016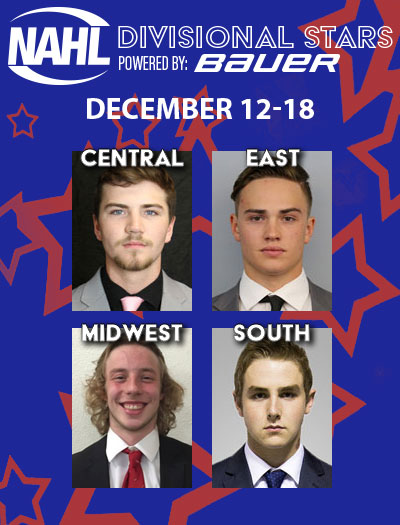 The North American Hockey League (NAHL) today announced the Divisional Stars of the Week presented by Bauer Hockey for the week ending December 18, 2016. The Bauer Hockey Divisional Stars of the Week is a weekly feature during the 2016-17 regular season that honors the top performing players in each of the four NAHL divisions. Only players that are nominated by their respective teams are considered for the Divisional Players of the Week award.
Central Division Star of the Week: Camden Haugenoe, goaltender, Bismarck Bobcats
Bismarck rookie goalie Camden Haugenoe, 19, backstopped his team to two wins and a weekend home sweep of the visiting Austin Bruins. The 6'5/200 lbs. native of Williston, North Dakota, faced 63 shots in the two wins in what was his 3rd and 4th starts respectively in the month of December. Haugenoe allowed just three goals and made 60 saves in the two games, which included 21 saves in a 5-1 win on Friday and 39 saves in a 4-2 win on Saturday, which included stopped all 19 shots he saw in the 3rd period. The wins were the first for Haugenoe since late September. "We needed a guy to step up for us and Cam did exactly that, giving us a chance to win both nights. He was calm and confident and made the big saves when we needed them," said Bismarck head coach Layne Sedevie.
2nd Star: Forbes Ploszaj, G, Aberdeen Wings
Honorable Mention (alphabetical): Alex Esbjors, F, Minnesota Wilderness – Gage Mackie, F, Aberdeen Wings – Pavel Mikhasenok, F, Minnesota Wilderness – Nate Pionk, F, Minot Minotauros – Jared Resseguie, F, Bismarck Bobcats – Reid Stefanson, F, Minot Minotauros
East Division Star of the Week: Colt Hanks, goaltender, Wilkes-Barre/Scranton Knights
Knights goaltender Colt Hanks, 18, made the most of his lone appearance this weekend as the native of Grand Ledge, Michigan, made 45 saves in a 3-1 win over the division-leading Aston Rebels on Saturday night. Hanks (5'11/175) faced 16 shots in both the 1st and 3rd period and managed to keep all the pucks out besides a goal in the 2nd period. The former NAPHL netminder has a 5-4 record this season with a 90% save percentage. "Colt came into a big situation in a division game for us Saturday. Aston is a talented team and we needed a strong effort in our own zone and in goal to come up with two points. Colt stepped up and gave us a solid performance. The Knights are happy to be heading into the break with a win and Colt played a major role in that," said Knights head coach Tom Kowal.
2nd Star: Jack Leavy, G, Aston Rebels
Honorable Mention (alphabetical): Mareks Mitens, G, Aston Rebels – Reed Robinson, F, Wilkes-Barre/Scranton Knights
Midwest Division Star of the Week: Cayden Cahill, forward, Fairbanks Ice Dogs
Playing his first games in three weeks, Fairbanks forward Cayden Cahill, 20, broke out for his best weekend of the year to help his team pick up a much needed three game road sweep against the Northeast Generals. The native of Anchorage, Alaska, totaled six points (4 goals, 2 assists) in the three wins, which also included a +5 rating. Cahill scored two of the three game-winning goals during the weekend, which included the game-winner in Thursday's 10-3 win and another game-winner in Saturday's 5-1 win. In 24 games this season, Cayhill (5'10/160) has 15 points. "Cayden had a good weekend coming off of injury. His game needs to remain consistent for him to provide opportunities for himself and teammates," said Fairbanks head coach Trevor Stewart.
2nd Star: Jake Barczewski, G, Janesville Jets
Honorable Mention (alphabetical): Peter Bates, F, Janesville Jets – Aaron McPheters, D, Fairbanks Ice Dogs – Ivan Prosvetov, G, Minnesota Magicians – Tyler Rock, F, Kenai River Brown Bears – Brendan Skarda, F, Minnesota Magicians
South Division Star of the Week: Alec Calvaruso, goaltender, Lone Star Brahmas
Lone Star Brahmas goalie Alec Calvaruso, 18, helped his team increase their lead in the South Division with a weekend home sweep of the 2nd place Wichita Falls Wildcats. The native of Livonia, Michigan, gave up just two goals on the weekend and stopped 34 of 36 shots that came his way. On Friday, Calvaruso (6'2/180) got the start and allowed just a single goal in a 2-1 win. On Saturday, he came into the game just 9:14 into the 1st period in relief and allowed just a single goal on 18 shots in a 4-3 shootout win, which included stopping all three Wildcats shooters in the extra session. So far this season, Calvaruso has a 12-4 record with a 2.17 GAA and a 91.2% save percentage. "Obviously he made some huge saves. Wichita Falls is one of the best offensive teams in the NAHL and we shut them down to just four goals all weekend. We had some pretty good goaltending by Alec," said Lone Star head coach Dan Wildfong.
2nd Star: Nikita Babintsev, G, Amarillo Bulls
Honorable Mention (alphabetical): Jared Dempsey, G, Wichita Falls Wildcats – Luke Edgerton, F, Amarillo Bulls – Aidan Spellacy, F, Lone Star Brahmas – Josh Tripp, D, Corpus Christi IceRays – Tomas Vomacka, G, Corpus Christi IceRays