Rebels edge Titans on Sunday, 2-1
December 19, 2016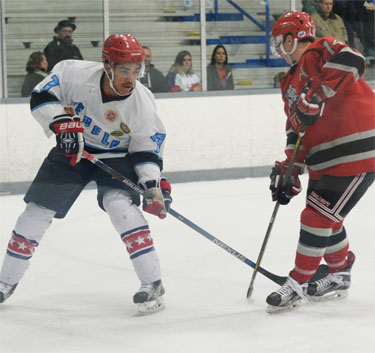 New Jersey 1 @ Aston 2 – The Aston Rebels edged the New Jersey Titans in the lone NAHL game on Sunday by a score of 2-1.
The Rebels got the scoring started in the 1st period as Dom Garcia netted his 9th goal just 5:39 into the game as he got a nice pass in the high slot and one-timed and shot past Titans goalie Brandon Perrone for a 1-0 lead. Andrew Bellant and Drew Blackmun were credited with assists.
In the 2nd period, the lead increased to 2-0 as again the Rebels would score early in the frame as a turnover led to a broken play in front of Perrone as Evgeny Yakovlev found himself alone in the low slot and spun around and fired a shot home for his 7th goal of the season with assists to Gianluca Esteves and Andrew Noel.
The Titans got on the board late in the 3rd period as Todd Goehring netted his 7th goal of the season with assists to Tyler Antonucci and Jordan Kaplan, but that would be all the Titans could get past Rebels goalie Jack Leavy, as Leavy made 25 saves on the night. Perrone made 21 saves in the loss.
The Rebels enter the holiday break with the best record in the NAHL at 24-5-1 through 30 games.