Watch: NAHL Now Alumni Series with Darian Romanko
December 16, 2016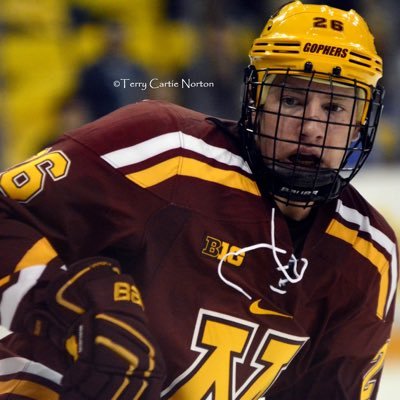 In a new video series for the 2016-17 season, the North American Hockey League (NAHL) is please to feature their extensive list of alumni in the NHL, NCAA and beyond in a new series entitled the NAHL Now: Alumni Series.
The NAHL Now: Alumni Series will be a regular video segment that highlights an alumni of the NAHL, who are currently playing in the NHL, NCAA or elsewhere as we try and catch up with their current situation, as well as, take a look back during their time playing in the NAHL.
We also try and get some feedback from coaches who constantly scout the league looking for players and who have made a lasting impact on the league
During a recent trip to Minnesota for another great NAPHL and NAHL Future Prospects event, the NAHL traveled to Mariucci Arena to catch up with some alumni at the University of Minnesota, which included former Minnesota Wilderness and NAHL Top Prospects forward Darian Romanko.
So far this season, Romanko has appeared in 16 games for the Gophers and recorded two points.
Romanko skated in 34 games for the Gophers as a rookie • recorded four assists in his freshman season • notched his first point as a Gopher with an assist against St. Cloud State on Nov. 29 • contributed in back-to-back wins against Penn State and Michigan State with one assist in each game • posted one assist in Minnesota's 9-2 win over Wisconsin in Madison • earned first letter.
Romanko played two seasons with the Minnesota Wilderness in the NAHL for Gopher All-American Corey Millen • helped the Wilderness capture the 2015 NAHL Robertson Cup for the organization's first-ever title • led all NAHL skaters with 19 points in the playoffs and tied for the league lead in playoff goals with seven and playoff assists with 12 • skated in the longest game in NAHL history to open the Robertson Cup finals – a four-overtime 2-1 win that lasted one hour, 33 minutes and three seconds • led the Wilderness and ranked second in the NAHL with 31 goals during the 2014-15 regular-season • also led the team and tied for eighth in the NAHL with 61 points (31 goals, 30 assists) in 54 regular-season games during the 2014-15 season • named to the 2014-15 NAHL All-Midwest Division Team • competed at the 2015 NAHL Top Prospects Tournament in Ann Arbor, Mich.