Ice Dogs explode for 10 goals in win on Thursday
December 16, 2016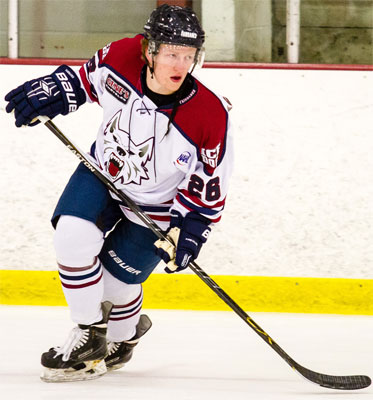 Fairbanks 10 @ Northeast 3 – Grayson Gavin scored four goals and Aaron McPheters had five assists as the Ice Dogs exploded for 10 goals, including five in the 1st period, in a 10-3 road win against the Northeast Generals in the lone NAHL game on Thursday.
It took the Ice Dogs just 1:45 to capture their first lead of the night as Gavin scored the first of his four goals. That was followed by four more goals in just over a four-minute span from Tanner Schachle, Luke Orysiuk, Cayden Cahill and Ryan Kero to make the score 5-0 at the end of one period. The night ended early for starting Generals goalie Gabe Vinal, who exited after Fairbanks' fourth goal as David Fessenden came in to face the rest of the offensive barrage.
The 2nd period saw just one lone goal as Hampus Eriksson scored his 4th goal of the season.
In the 3rd period, it was all Grayson Gavin as he scored three more times to complete his four-goal game. It also included another goal from Schachle, his second of the night. The Generals did manage to score three goals in the final period, which included goals from Alex Cohen (1), Mike Egan (5) and Michael Taormina (2).
Josh Sarlo picked up the win in goal for the Ice Dogs, making 20 saves, while Vinal took the loss for the Generals with seven saves. Fessenden made 13 saves in a relief appearance.