Blizzard edge Bruins on Wednesday, 3-2
December 15, 2016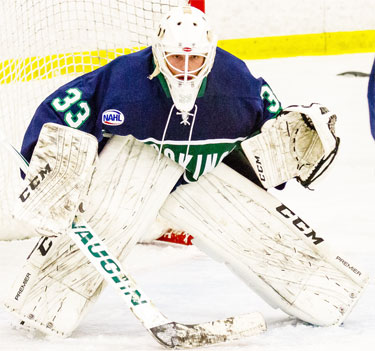 Brookings 3 @ Austin 2 – In a late morning contest that was a part of a Healthy Habits Day for local area school kids, the Brookings Blizzard got two goals from Nicholas Cardelli as they picked up an important 3-2 road win in Austin in the lone NAHL game on Wednesday.
Cardelli and Austin's Jan Stefka did the majority of the scoring on Wednesday, which included both players scoring goals in the 1st period as the team's were knotted at 1-1.
In the 2nd period, the Blizzard took a 2-1 lead on Derek Hammer's 4th goal of the season. That was answered again by the Bruins, who got the 2nd goal of the game from Stefka on the power play to tie the game at 2-2. However, just :34 seconds later, it was Cardelli scoring his 2nd goal of the game and 10th of the season, which would end up as the game-winner.
The Blizzard outshot the Bruins 36-33 in the game, which also included a 13-8 margin in the 3rd period as both goalies kept their team's in the game. Brookings netminder Josh Boyko ended up with 31 saves on 33 shots in the win, while Austin's Alex Schilling made 33 saves on 36 shots in the loss.