Amarillo forward Mika makes NCAA DI commitment
December 9, 2016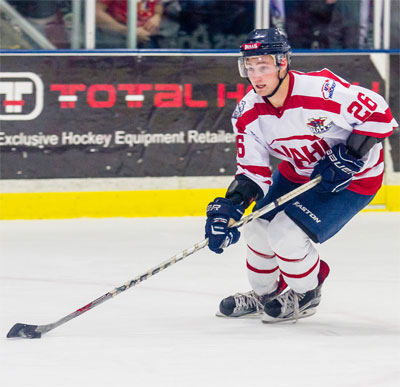 By Lance Lahnert, Amarillo Globe News
George Mika grew up in Florida. But his sunshine comes from being on the ice, not on the beach.
"I've worked hard every since I started playing hockey when I was five-years-old," Mika said. "This is something I've wanted for a long, long time now."
The third-year Bulls player has proven hard work pays off as his impressive opening three months of the NAHL season has been the catalyst for his recent dream-come-true experience of signing a NCAA Division I hockey scholarship.
Mika, who leads the Bulls with 27 points (12 goals, 15 assists) in 26 games, signed with the University of Massachusetts, which plays in the elite Hockey East conference.
"I can't thank the coaching staff here and the Amarillo Bulls enough," Mika said. "And then my family, too. Every day it's a commitment to getting better as a player and working on your skills, nutrition and off ice stuff. It's a grind but now that I finally achieved this goal it means everything to me."
Bulls coach Matt Nicholson said Mika's signing arrived because D-I colleges were able to pinpoint how Mika's skating skills and strong shot will play out at the next level.
"The knock on George last year was the recruiters couldn't figure out what he was," Nicholson said. "Was he a goal scorer or was he a playmaker? That's because he had 13 (goals) and 23 (assists) which are not really gaudy stats. He is putting the puck in the back of the net more and he also being more playmaker.
"Last year there were teams kind of sniffing around on him and we thought he would be the player he is this year. He had six full scholarship offers which is not commonplace. There are only 18 scholarships in Division I hockey. So do the math with a roster of 26-30 players not everyone is on a full ride. The fact six schools thought enough of him to give him full-boat speaks of his character, his grades and his play. He is going to a big-time conference in comparison to football it would be like going to the SEC."
Mika said his choices included Air Force Academy, University of Niagara, Holy Cross and Bentley University.
"It wasn't one thing why I chose U-Mass-Amherst," Mika said. "I love the Amherst area. It's a college town and beautiful area and I love the school. It has a great business school. Knowing people at the school and on the hockey team was a no brainer for me."