December 8, 2016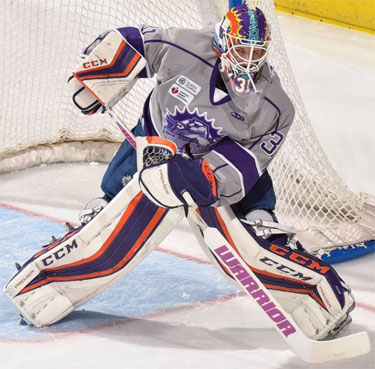 Atlantic Hockey Rookie of the Week: Ryner Gorowsky, Bentley (Fairbanks Ice Dogs)
Gorowsky was Bentley's co-leading scorer in its series at Canisius with four points, which came on 1 goal and 3 assists. Gorowsky, who just returned to the ice two weekends ago after missing 7 straight games, had 1 goal and 1 assist in the series opener, a 4-3 defeat. In Saturday's 3-3 tie, he had the primary assist on Kyle Schmidt's goal at 8:12 of the 1st period, and an assist on Max French's goal at 16:33 of the 1st.
Atlantic Hockey Goalie of the Month: Charles Williams, Canisius (Owatonna Express)
Charles Williams backed Canisius to a 3-2-1 record in the month of November, all six games coming against Atlantic Hockey opponents. Williams allowed 11 goals in seven starts, while also making 210 saves. Overall, he posted a 1.75 goals against average and a 0.950 save percentage. Williams recorded two shutouts in November, the first coming against RIT on November 4th and the second coming against AIC on November 18th. In the shutout of RIT, Williams stopped 41 shots, one of two 40-save efforts in November and one of four 30-save games for the senior.
ECAC Rookie of the Month for November: Jake Kielly, Clarkson (Austin Bruins)
Kielly posted the best winning percentage among league goaltenders for November at .833. He is unbeaten in his last six starts (4-0-2) after missing weekend action on November 4-5 with an illness. Kielly posted a .947 save percentage and a 1.62 goals against average for the month. He was twice named ECAC Hockey Goaltender of the Week (11/14, 11/28) and was selected as Most Outstanding Player of the Shillelagh Tournament last weekend. He turned aside all 35 shots he faced against 11th-ranked Notre Dame in the tournament championship game (11/26) for his second career shutout, and was named NCAA Ice Hockey's 1st Star of the Week (11/28) for his efforts. Kielly recorded three games with 30-or-more saves in November.
NCHC Player of the Month: Matheson Iacopelli, Westerm Michigan (Springfield/Texas)
Iacopelli continued his impressive sophomore campaign with an 11-point month while leading the Broncos to a 4-1-1 mark in November. He tied for the NCHC scoring lead and tied for sixth nationally in points during the month, while his seven goals shared the NCAA lead in November. Iacopelli's 1.17 goals per game led the entire NCAA this past month with his 1.83 points per game leading the NCHC and tying for fifth nationally in November. The Chicago Blackhawks prospect tallied multiple points in five of his six games during the month, with at least one goal in four of the games.
WCHA Rookie of the Week: Marc Michaelis, Minnesota State (Minnesota Magicians)
Michaels continued to play like one of the nation's top rookies, tying for the lead among all NCAA skaters with a seven-point weekend. The freshman from Mannheim, Germany helped No. 16 Minnesota State to a four-point series, scoring four goals with three assists. Michaelis factored in four goals in the Mavericks' 7-3 win Friday, assisting on the first score and then marking his first career hat trick – the first by a WCHA freshman since teammate Brad McClure scored three times in the 2015 Broadmoor Trophy championship game. After scoring the game-winning goal Friday, Michaelis then netted a short-handed marker and tallied a primary assist on the tying strike in Saturday's 5-5 draw. Michaelis now leads the WCHA with 21 points (9g-12a) and 1.31 points-per-game, ranking third and fourth, respectively among NCAA rookies. This is Michaelis' first career WCHA weekly award.
ECHL Goalie of the Month: Ryan Massa, Orlando Solar Bears (Bismarck Bobcats)
Ryan Massa of the Orlando Solar Bears has been selected as the Warrior Hockey ECHL Goaltender of the Month for November. The 26-year-old went 6-1-1 with a 2.48 goals-against average and a save percentage of .964 in eight appearances during the month. Massa allowed two goals or less in five of his seven starts in?November – including in each of his last three appearances – and made at least 31 saves on four occasions. A native of Littleton,?Colo., Massa has appeared in 10 games for the Solar Bears this season posting a record of 7-2-1 with a 2.68 goals-against average and a save percentage of .915. In 47 career games for Orlando, he has an overall mark of 26-15-3 with two shutouts, a 2.86 goals-against average and a save percentage of .915.
ECHL Goalie of the Week: Riley Gill, Allen Americans (Texarkana Bandits)
Riley Gill of the Allen Americans is the CCM ECHL Goaltender of the Week for Nov. 28-Dec. 4. It is the fourth time in his career that he has received the weekly honor. The 31-year-old went 3-1-0 with two shutouts, a 1.24 goals-against average and a .952 save percentage in four appearances last week. Gill posted back-to-back 1-0 shutout victories to open the week, making 26 saves on Tuesday at Tulsa and 24 saves on Wednesday at Missouri. He had 20 saves in a 4-2 loss against Tulsa on?Friday and stopped 29 shots in a 4-2 victory over the Oilers on Saturday. A native of Northfield, Minn., Gill has appeared in 16 games for the Americans this season, and is tied for the league lead with two shutouts, tied for second with nine wins, tied for sixth with a .926 save percentage and is 11th with a 2.44 goals-against average.
SPHL Player of the Month: John Siemer, Macon Mayhem (Fresno Monsters)
The Southern Professional Hockey League (SPHL) today announced John Siemer of the Macon Mayhem is the Bauer Player of the Month for October/November. Siemer helped lead Macon to an 11-1-1 record through November, which included winning streaks of 10 games overall and six straight on the road, the latter of which established a new SPHL record from the start of a season. On the ice, Siemer led all players with 10 goals (tied) and 20 points, scored three game-winners and was +7. Siemer also recorded five multi-point games, including a two-goal, two-assist performance in a 5-3 win over Fayetteville on November 18.
SPHL Player of the Week: Tanner Milliron, Evansville Thunderbolts (Springfield/Austin)
The Southern Professional Hockey League (SPHL) today announced Tanner Milliron of the Evansville Thunderbolts is the Bauer Player of the Week for November 28-December 4. Milliron went 2-0-0, stopping all 44 shots he faced, and didn't allow a goal in 110 minutes of action as the Thunderbolts swept a weekend series with Knoxville and extended their winning streak to three games. On Friday, the New Richmond, WI native entered the game in the first period in relief of starter Michael Doan, with the Thunderbolts facing an early 3-0 deficit. Milliron and the Evansville defense shut down the Ice Bears over the remaining 49:25 as Evansville rallied to force overtime, where the Thunderbolts needed just 10 seconds to score the game-winning goal and grab a 4-3 win. Milliron got the start the following night where he recorded his second shutout of the season, stopping all 30 Knoxville shots in a 3-0 win.
Former Springfield Jr. Blues player
Patrick Curry
finding success at Boston University (
read
)
Former Coulee Region Chill player
Brogan Rafferty
drawing attention from NHL scouts (
read
)
Former Topeka RoadRunners goalie
Matej Tomek
to join Slovakia World Juniors Team (
read
)