Wichita Falls defenseman Donohue makes NCAA DI commitment
December 6, 2016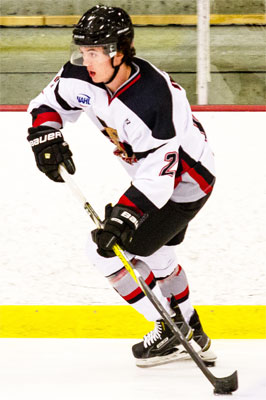 By Alex von Keudell, Wichita Falls Wildcats
The Wichita Falls Wildcats, proud members of the North American Hockey League (NAHL), are please to announce that team captain Seamus Donohue has committed to play Division I NCAA Hockey at Michigan Technological University of the Western Collegiate Hockey Association. He will begin his college hockey career at the start of the 2017-2018 season.
"I really liked the school, and I know there are lots of good people in that area. It's got a first-rate hockey program," Donohue said. "After speaking with their Assistant Coach Gary Shuchuk, it didn't make sense for me not to go there. Playing for the Wildcats has been instrumental in helping get to this point. I would not have been able to reach this goal without the help of Josh Nelson, Tony Curtale, and my teammates."
Donohue, 20, became the second Wildcat from the 2016-17 roster to commit to play college hockey (Jonathan Bendorf, RPI) and just the second ever to commit to Michigan Tech (Ricky Doriott ['06-'07]).
"We're very proud of Seamus in seeing his efforts leading to a childhood dream come true," Wildcats Head Coach Josh Nelson said. "He's been a phenomenal leader both on and off the ice with this team and I know Michigan Tech will enjoy him both as a person and player."
The 6'0/185 lbs. blue-liner from North Oaks, Minnesota, has been a staple on the back end for the Wildcats all season. His vision and skating have allowed him to serve as a very proficient power play quarterback and breakout specialist. He's one of just four players to have played in all 24 games this season and he leads the Wildcats defense corps with 15 points.
Though he is known more as a puck-moving defenseman than a shutdown man, the Wildcats' Captain has steadily improved his defensive prowess as the season has gone on. Possessing a sound awareness of the game, he has shown he can suppress odd-man rushes just as well as he can create them. He has a +4 rating through 24 games and is regularly matched against opponents' top scorers. On a young team, his skills and his junior hockey experience have been indispensable to the Wildcats' successes this season.