NAHL announces Bauer Divisional Stars of the Week
December 5, 2016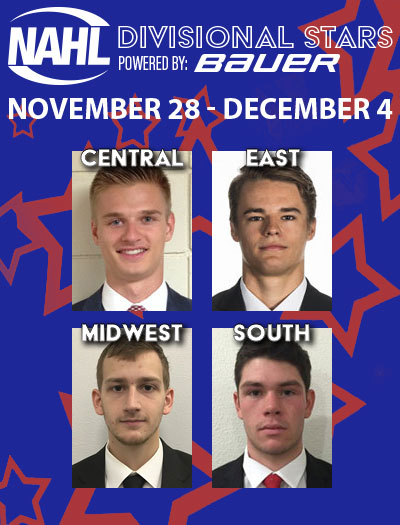 The North American Hockey League (NAHL) today announced the Divisional Stars of the Week presented by Bauer Hockey for the week ending December 4, 2016. The Bauer Hockey Divisional Stars of the Week is a weekly feature during the 2016-17 regular season that honors the top performing players in each of the four NAHL divisions. Only players that are nominated by their respective teams are considered for the Divisional Players of the Week award.
Central Division Star of the Week: Cole Lawrence, forward, Austin Bruins
Extending his point streak to three games over the weekend, Austin Bruins rookie forward Cole Lawrence is starting to get used to the NAHL game. The 18-year-old native of Eden Prairie, Minnesota, recorded goals in back-to-back games this weekend as the Bruins split their home series with Aberdeen. Lawrence (6'1/180) scored his first career goal in a 6-4 win on Friday and then added one of Austin's two goals in a 6-2 loss on Saturday. For the season, Lawrence has five points in 17 games played. "Cole has made tremendous steps this past month, which is no surprise due to his work habits and attitude. It was great to see that rewarded over the weekend with his first two NAHL goals," said Bruins head coach Kyle Grabowski.
2nd Star: Colin Raver, F, Aberdeen Wings
Honorable Mention (alphabetical): Tanner Breidenbach, D, Bismarck Bobcats - Tyler Jeason, F, Minot Minotauros - Travis Kothenbeutel, F, Austin Bruins – Nate Pionk, F, Minot Minotauros – Jared Resseguie, F, Bismarck Bobcats
East Division Star of the Week: Dalton Hunter, forward, Johnstown Tomahawks
Leading the NAHL in scoring is Johnstown forward Dalton Hunter, 19, who had six more points over the weekend in a home sweep of the Northeast Generals. The 6'3/200 lbs. native of Greensburg, Pennsylvania, had a goal and an assist in a 4-2 win on Saturday and a hat-trick and an assist in a 7-2 won on Sunday. His 33 points are tops in the NAHL. "We were fortunate to get a weekend sweep at home and Dalton was instrumental in our offensive output and success. He was making high end plays throughout the weekend and turned his efforts into statistical success. He has been such a consistent force for us since the start of the season, now leading the entire league in overall scoring, and maybe even more notably in game-winning goals. I am very proud of the way he and our group battled hard this weekend to secure four points. In my opinion, Dalton has certainly emerged as a very strong NCAA Division I prospect and I am really pulling for him to be rewarded for his efforts in the near future," said Johnstown head coach Mike Letizia.
2nd Star: Paul Maust, F, Wilkes-Barre/Scranton Knights
Honorable Mention (alphabetical): Nick Bruce, F, Johnstown Tomahawks – Reed Robinson, F, Wilkes-Barre/Scranton Knights
Midwest Division Star of the Week: Larry Jungwirth, forward, Coulee Region Chill
Chill forward Larry Jungwirth, 19, has been on a tear, which includes another good effort this week as the Chill split a home-and-home series with the Minnesota Magicians. The 5'11/170 lbs. native of Bloomington, Minnesota had three points in the two games. On Friday, Jungwirth had two assists in a 4-1 home win and on Saturday, he scored the lone Chill goal in a 5-1 loss in Minnesota. For the season, Jungwirth is tied for 2nd in team scoring with 20 points in 22 games played so far this season. "Larry has been building confidence these last few weeks and we are starting to see that reflected in his contributions on the scoreboard in our recent victories," said Chill head coach Ryan Egan.
2nd Star: Frank Sullivan, D, Janesville Jets
Honorable Mention (alphabetical): Peter Bates, F, Janesville Jets - Kevin Dineen, F, Coulee Region Chill – Jordan Muzzillo, D, Springfield Jr. Blues - Max Nylander, F, Springfield Jr. Blues - Ivan Prosvetov, G, Minnesota Magicians - Mitchel Slattery, F, Minnesota Magicians
South Division Star of the Week: Jared Dempsey, goaltender, Wichita Falls Wildcats
The Wichita Falls Wildcats resurgence and climb up the South Division standings falls right in line with the addition of 19-year-old goaltender Jared Dempsey. The native of Grosse Pointe Farms, Michigan, was incredible this weekend as the Wildcats extended their winning streak to six straight games with a weekend sweep in Corpus Christi against the IceRays. Dempsey (6'3/190) faced a total of 67 shots in the two wins and allowed just two goals. On Saturday, he made 33 saves in a 4-2 win and on Sunday, he stopped all 32 shots that came his way for his first shutout of the season in a 4-0 win. Since joining the Wildcats in early November, Dempsey is a perfect 8-0 for his new team. "Since we picked up Jared earlier in November, he's stepped in and played rock solid for us. He's allowed our team to play with confidence," said Wildcats head coach Josh Nelson.
2nd Star: John Roberts, G, Shreveport Mudbugs
Honorable Mention (alphabetical): Jordan Fader, F, Shreveport Mudbugs - Phil Fromberger, F, Amarillo Bulls - Jon Flakne, G, Odessa Jackalopes - Erik Gordon, G, Lone Star Brahmas - Max Harper, F, Topeka RoadRunners - Peter Kessel, F, Lone Star Brahmas - Tyler Pietrowski, F, Odessa Jackalopes - Will Schlagenhauf, F, Topeka RoadRunners - Jonathan Waring, D, Wichita Falls Wildcats