Watch: NAHL Now sits down with Frank Serratore
December 2, 2016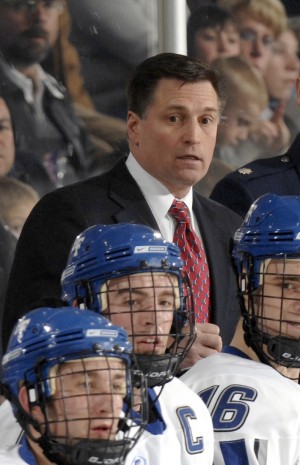 In a new video series for the 2016-17 season, the North American Hockey League (NAHL) is please to feature their extensive list of alumni in the NHL, NCAA and beyond in a new series entitled the NAHL Now: Alumni Series.
The NAHL Now: Alumni Series will be a regular video segment that highlights an alumni of the NAHL, who are currently playing in the NHL, NCAA or elsewhere as we try and catch up with their current situation, as well as, take a look back during their time playing in the NAHL.
We also try and get some feedback from coaches who constantly scout the league looking for players and who have made a lasting impact on the league
During a recent trip to Colorado for another great NAPHL and NAHL Future Prospects Tournament event, we took a trip South to the Air Force Academy to catch up with Air Force Falcons head coach Frank Serratore.
This weeks question: What makes the NAHL different?
A short conversation with coach Frank Serratore makes your pulse race a little faster. His enthusiasm and energy for Air Force hockey are that powerful. No other NCAA Division I team has more NAHL alumni on its roster than Air Force, a testament to Serratore's love for the NAHL.
As the fourth head coach in the 48 years of Air Force hockey, Serratore was in his office less than a week when he pointed out what it would take to turn the program around.
"We want to be the hardest working team in the country," Serratore said. "We want to have a team full of over-achievers. Not everyone is blessed with outstanding ability, but everyone can work hard and play with pride and spirit."
Serratore enters his 20th season at Air Force with a 329-310-71 record at the Academy. He has an overall mark of 378-402-80 in 23 seasons as a college head coach.
Not only has Serratore turned the Falcon program around, he has turned it into a legitimate national contender, with five conference championships and five NCAA appearances in the last 10 years. Over the last eight years, Air Force has beaten a team ranked in the top five in the nation six times.
Last season, the Falcons exceeded everyone's expectations and posted a 20-12 -5 overall record. Air Force was picked to finish seventh in the conference, earned the No. 2 seed in the AHC Tournament and earned its first trip to the conference Final Four in three seasons. By splitting a two-game series with Colorado College, the Falcons retained the Pikes Peak Trophy for the third straight season.