Gongshow Flow of the Month winner for Movember announced
December 1, 2016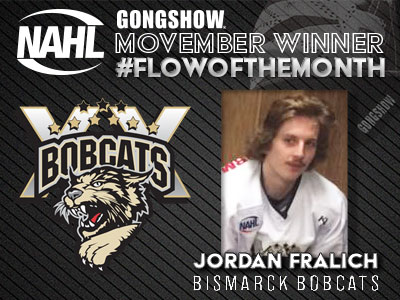 It is the most wonderful time of the year! Yeah sure, the holidays are near, but we are talking about the special time of year for male hair enthusiasts that play hockey. That would be Movember!
With that said, the North American Hockey League (NAHL) announced its GONGSHOW Flow of the Month winner for Movember 2016.
The winner this month is defenseman Jordan Fralich from the Bismarck Bobcats.
As stated at the beginning of the month, major points and credit was going to be given for those players who snapped a picture that not only included some nice flow, but some type of recognizable mustache.
Fralich, 20, is not only a master of flow, but he is also a very good defenseman for the Bobcats. The native of Cottan, Minnesota, finished as the Runner-Up for the NAHL's Defenseman of the Month award in September. Fralich (5'10/185) ranks in the Top 10 for defensive scoring in the NAHL with 16 points in 23 games played.
Being from Minnesota, Fralich is no stranger to growing the flow. He along with his teammates from the Bobcats participated in Movember for awareness of men's health.
Well, Christmas came early for Fralich today. Just an amazing effort this month with the mo and the flow!
We will start with the flow… just a mane of fury. This thing is feathered, lethal, wavy and has a true 'poofant' style to it. But, Fralich turns the dial to 11 with his 'stache, which is straight from the 1970's. A pure duster of epic proportions. In hockey terms, we call this mo the 'Playmaker' and that's exactly what Fralich is. He is a playmaker that a hairbrush and blow dryer bow down to. An amazing effort this month!
A great effort in both the hair and mustache department and definitely one of the MVP's behind the NAHL's Movember campaign. Congrats Jordan… and for his effort, he will be receiving a GONGSHOW Gear hat.
For the sixth season in a row, GONGSHOW is the exclusive sponsor of the Flow of the Month promotion exclusively on the NAHL and GONGSHOW Twitter sites
@NAHLHockey
and
@GONGSHOWGEAR
.
Fans and players alike are encouraged to submit photos of their best 'hockey hair' or 'flow' via Twitter by the end of every month during the regular season.
To enter the contest for the month of December, submit your best #FlowoftheMonth pictures by December 31st to
@NAHLHockey
and
@GONGSHOWGEAR
. Two winners will be selected on January 1st. Winners will receive a GONGSHOW Gear hat.
GONGSHOW Gear Inc. (GONGSHOW) is the Official Lifestyle Hockey Apparel of the NAHL. GONGSHOW is also the sponsor of the NAHL TV platform on the NAHL website at NAHL.com. GONGSHOW is recognized as the hockey good industry's premier manufacturer of innovative, high quality, fashionable and trend setting clothing apparel for hockey athletes of all ages and abilities.