November 30, 2016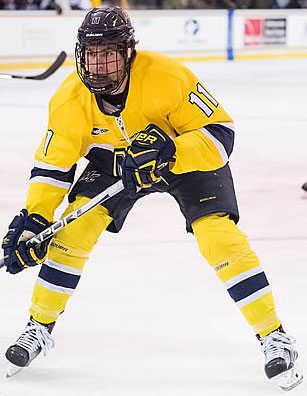 NCAA # 1 Star and ECAC Goalie of the Week: Jake Kielly, Clarkson (Austin Bruins)
After backstopping the Clarkson University Hockey team to its first in-season tournament championship title since 2006, freshman Jake Kielly has been selected ECAC Hockey Goaltender of the Week and earned NCAA Ice Hockey 1st Star honors. Named Most Outstanding Player of the Shillelagh Tournament, Kielly combined for 62 saves on 64 shots as the Golden Knights extended their current unbeaten streak to seven games (5-0-2). The Eden Prairie, MN native turned aside all 35 shots he faced against 11th-ranked Notre Dame in Saturday's 2-0 Championship game victory in South Bend, IN for his second career shutout. He made 27 saves in the 2-2 tie against Yale on Friday in tournament first-round action, and stopped two of three shots in the tie-breaking shootout against the Bulldogs. Kielly has started 13 of Clarkson's first 16 games and posts a .923 save percentage and a 2.38 goals against average along with two shutouts. He is unbeaten in his last six starts after missing weekend action on November 4-5 with an illness.
Atlantic Hockey Goalie of the Week: Andrew Pikul, Robert Morris (Odessa Jackalopes)
Andrew Pikul earned his first career win and shutout against non-conference Dartmouth College on Saturday night, making 33 saves. Several of those saves came in clutch moments, with Dartmouth challenging to tie the game early on. Pikul stretched to make a tremendous glove save to keep Dartmouth off the board later in the game, and the Colonials were able to ice the game with an empty net goal for the 3-0 victory.
Atlantic Hockey Rookie of the Week: Colin DeAugustine, Mercyhurst (Johnstown Tomahawks)
DeAugustine was tremendous in net against Canisius on Saturday, helping the Lakers move to .500 in Atlantic Hockey play with a 5-1 win over the Golden Griffins. DeAugustine made 39 saves against Canisius, 32 of which came in the final two periods, matching a season-high in saves. The win was also the second of the season for the freshman.
Hockey East Rookie of the Week: Tyler Irvine, Merrimack (Topeka RoadRunners)
Tyler Irvine (Livonia, Mich.) Had a career-high four points (2g, 2a) in a 5-2 win over Providence. The victory over the defending Hockey East regular season co-champion was Merrimack's first league win this season.
Hockey East Defensive Player of the Week: Stefanos Lekkas, Vermont (Springfield Jr. Blues)
Stefanos Lekkas (Elburn, Ill.) stopped 73 of 76 shots he saw in the Friendship Four in Belfast, Northern Ireland, including a 40- save performance over No. 3 Quinnipiac. He posted a .961 save percentage and two wins and was named the tournament's Most Outstanding Player.
NHL 1st Star of the Week: Craig Anderson, Ottawa (Chicago Freeze)
Anderson paced the NHL with four wins, compiling a 1.25 goals-against average, .960 save percentage and one shutout in four appearances to lift the Senators (14-7-1, 29 points) into second place in the Atlantic Division. He made 36 saves in a 4-3 victory over the League-leading Montreal Canadiens Nov. 22. Anderson then allowed one goal in each of his next two starts, recording 19 saves in a 3-1 triumph over the Boston Bruins Nov. 24 and 32 saves in a 2-1 win over the Carolina Hurricanes Nov. 26. He closed the week by earning his 36th career shutout – via 33 saves – in a 2-0 victory over the New York Rangers Nov. 27. The 35-year-old Park Ridge, Ill., native shares second place in the NHL with 12 wins and three shutouts in 17 outings this season (12-4-1) to go along with a 2.03 goals-against average and .936 save percentage.